Iowa Uber Accident Lawyer
If you or a loved one has been injured in a car accident involving an Uber vehicle, you might have a lot of questions. How will you pay your medical bills? Who is responsible for your injuries? Do you need a personal injury attorney?
We'll guide you through the most important things to consider in the aftermath of your accident so that you better understand your legal options.
Who is Liable in an Uber Accident in Iowa?
Liability in accidents involving rideshare services like Uber or Lyft can be tricky. Depending on the nature of your accident, responsibility may fall on an individual driver, the rideshare company, or another entity.
If you were injured as an Uber passenger and the accident was caused by the driver of another car, that driver's insurance policy should have liability coverage that may cover your damages.
If the accident was caused by the driver of the Uber car, they will likely be held liable for the accident. There are some instances where the rideshare company's insurance policy will also cover your injuries, which we will get into later.
Regardless of who is responsible for your accident, you will need to prove liability before you can obtain a settlement. A car accident attorney can help you gather evidence and build your injury case.
Do
Uber Drivers
Have
Insurance Coverage
?
In order to become an independent contractor for Uber or Lyft, a driver must have their own insurance policy. This policy must have liability insurance, according to Iowa state law. 
Some insurance companies require commercial or business insurance coverage to cover an accident in an rideshare or delivery vehicle. Prospective drivers should check with their insurance company to learn what the requirements are for their policy.
In addition to the rideshare driver's auto insurance, Lyft and Uber each have their own policies. How much coverage they offer depends on the circumstances of your accident.
If the Uber app is offline when the accident occurs, the Uber or Lyft driver's personal insurance policy is responsible for covering damages.
If the accident happens when the app is on and the driver is available to receive requests, both Lyft and Uber offer the following insurance coverage: 
$50,000/person in

bodily injury

coverage

$100,000/accident in

bodily injury

coverage

$25,000 in coverage for

property damage
If the driver has accepted a ride request and is en route to pick up or drop off passengers at the time of the crash, the rideshare companies provide the following coverage:
$1,000,000 in third-party liability

Uninsured

/underinsured

motorist coverage

Comprehensive and collision insurance with a $2,500 deductible (this coverage is contingent upon the driver maintaining this coverage on their

personal insurance policy

)
Of course, the existence of these insurance policies does not necessarily mean it will be easy to get fair compensation from the insurance companies. A rideshare accident attorney can help you understand Uber's insurance policy and fight the insurance providers for the settlement you deserve.
What Damages Can Be Covered in a
Rideshare Accident Claim
?
Depending on the nature of your accident, you may be able to recover compensation for the following damages:
Medical expenses

Property damage

Non-economic damages

, like pain and suffering

Funeral and burial expenses in the event of

wrongful death
What Should I Do After a
Rideshare Accident
?
After any car accident, take the following actions to keep everyone safe and protect your right to an insurance claim.
Check for injuries
Check yourself and anyone else in the car for injuries. If anyone has serious injuries, call 911. 
Call the police
Even if no one is seriously hurt, call the police and ask for an officer to respond to the scene. File a police report. Many insurance companies require one before they will approve any claims.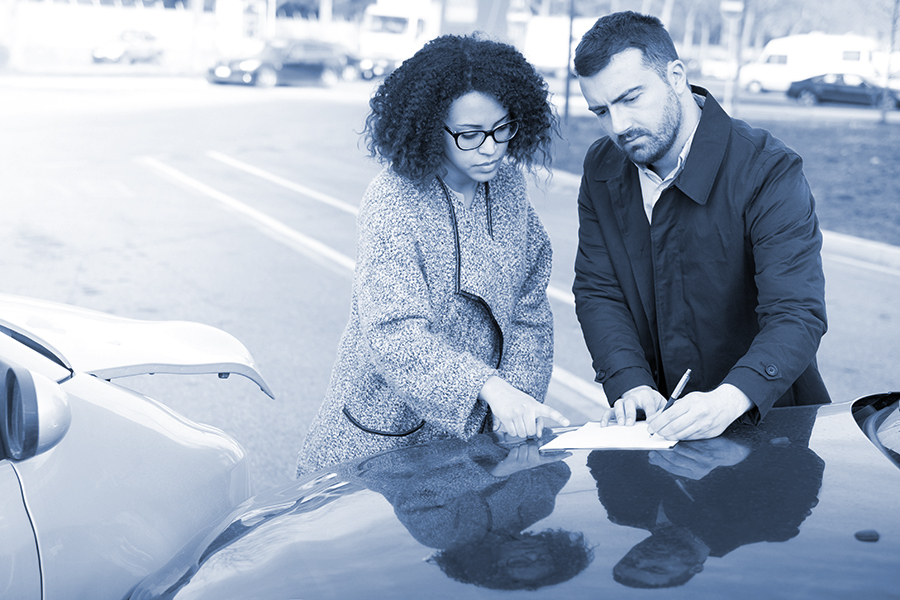 When speaking to the police, do not admit fault or speculate on the causes of the accident. This could hurt your case later.
Exchange information
Whether you are a driver or passenger, get the contact and insurance information of any drivers involved in the accident. Also be sure to get the contact information of any witnesses—they may be able to provide valuable evidence when you are building your case.
Document the scene
Take pictures and videos of your injuries, the cars, and the accident scene as a whole. Even if you aren't sure if they will be helpful, take the pictures anyway. Your legal team can help you determine what is useful later.
Write down your own account of the accident as soon as you can. Simply write down the facts, such as the time of the accident, the conditions that were present, and the order of events.
Seek
medical attention
Even if you do not believe you are injured, get medical treatment. Tell your physician that you were involved in a car accident so they can look for hidden injuries.
Notify your
own insurance
provider
Whether you were at-fault in the accident or not, let your auto insurance provider know that you were involved in an accident. Your insurance policy may have MedPay coverage, which can help cover your medical bills even when you are not responsible for the crash.
Report the accident to Uber or Lyft
Let the relevant rideshare company know about the crash. You can report the accident under "Trip Issues" on the rideshare app.
Do not assume your rideshare driver will report the accident on their own, especially if they were at fault.
Consider contacting an Uber or
Lyft accident lawyer
A personal injury lawyer can offer you a free consultation to help you determine whether you have a case. They will help you understand your legal options, gather evidence, keep track of medical records, and negotiate with insurance companies.
How Can an Iowa
Uber Accident Attorney
Help Me?
The aftermath of an accident can be stressful, frustrating, and overwhelming. When dealing with physical injuries, financial damages, and emotional trauma, a personal injury claim can feel like too much to handle.
An attorney with the Iowa Advocates can help. Your Advocate will guide you through the claims process, answering your questions, providing you with regular updates, and advocating on your behalf. They will also help you file your claim so you do not miss the statute of limitations.
The car accident lawyers with The Advocates have helped thousands of accident victims over the last 30 years, and we are ready to help you too. Contact us today for a free case evaluation. You deserve competent, compassionate legal representation after your accident. You deserve an Advocate.