Top 10 Best Motorcycle Rides in Wyoming
The Best Motorcycle Routes in Wyoming
Did you know there are more than 8.5 million registered motorcycles in the United States? While most Americans have a deep love affair with their cars, there's nothing quite as patriotic as revving the engine across the asphalt of true motorcycle country.
With slick rides and smooth sailing comes the search for the best motorcycle drives in the country. Even though states like Texas and Florida boast substantial amounts of Harley-Davidson pride, the scenic routes in these states simply cannot compare to those of the Cowboy State. Wide open landscapes and white-knuckle curves towering high above sea level can be a playground for anyone with a deep love of motorcycles. If you're an adventurous motorcyclist, be sure to check out our list of the top 10 best motorcycle rides in Wyoming. You don't want to miss out on these rides!
Motorcycle Ride #
1:
Chief Joseph Highway (Highway 296)
Linking the town of Cody with the notorious Beartooth Highway to the northeast gate of Yellowstone National Park, this 47-mile scenic byway through the Rocky Mountains is considered one of the best motorcycle rides in Wyoming. With panoramic views around sharp mountain bends, this route crosses the Shoshone National Forest through the Absaroka Mountains onward to the beautiful Clarks Fork Valley.
As quick as the scenery changes, the weather is just as temperamental along this ride. The most ideal times for motorcyclists to traverse this route are during the summer and fall months. While snowplows keep the highway open near the east entrance of Yellowstone during the winter months, the route is inherently more dangerous and should not be driven at that time. 
Motorcycle Ride #2
:
Highway 270 (Wyoming State Road)
As seen in films about the Wild West, vast rolling plains and beautiful ranches truly capture the essence of life in Wyoming. Bikers who travel the same dusty trails are practically considered modern-day cowboys. Highway 270 offers a smooth ride beginning at the southern end of Platte County all the way up to the northeastern front of Wyoming's countryside. A route with minimal curves and great visibility, this state highway is the perfect trip for bikers to kick back and ride side-by-side with the sunset.
Motorcycle Ride #3
:
 U.S. 85
If you're looking for a pure thrill ride, U.S. 85 will weave you through unpredictable mountain terrain and into the most scenic valleys in the entire state of Wyoming. Passing through five other states, Highway 85 is a north-south route beginning at the Mexican border in Texas heading lazily up to the Canadian border of North Dakota. This winding stretch of highway offers hairpin zigzags which barely skim the western edge of Nebraska as it snakes through Wyoming up into North Dakota. While the route is certainly a thrill, keep in mind that U.S. 85 becomes a business highway near Cheyenne, where traffic flow is much heavier than other parts of the route. Road surfaces also change considerably on U.S. 85 in Wyoming, so be sure to drive the speed limit and be mindful of the terrain.
Motorcycle Ride #4
:
Highway 120: From Thermopolis to Cody
While Wyoming is the least populated state in the country, this route is an unforgiving tour into no man's land. For bikers in dire need of an escape from civilization, Highway 120 is the route for you. Simply cruise along the eastern edge of Shoshone National Forest and enjoy the mountain views from the sidelines as you cruise through this vast and beautiful land.
Interrupted by lush valleys from time to time, this 122-mile stretch of highway begins in the largest town in Hot Springs County, Thermopolis, heads up through Cody, and snakes all the way to the Montana border. Even though this is an older route, you'll find peace in having the highway all to yourself.
Motorcycle Ride #
5:
Route 287: From Rawlins to Moran
For bikers looking for a beautiful trip to Jackson, Yellowstone, or even Montana, the route from Rawlins to Moran is definitely the way to go. Stretching over 250 miles, Route 287 begins in the small city of Rawlins where you can visit plenty of attractions, including Wyoming's infamous Frontier Prison Museum. As you make your way up north through Carbon County, expansive plains and distant mountains will join you for most of this trip. Since this route is relatively remote, there are plenty of opportunities to safely pull over and take photos along the way.
A great place that many other bikers have recommended to stop is Landis, Wyoming. Here you can grab a quick bite to eat and then continue north before the route turns into Highway 26. Just east of Bull Lake, you'll continue heading west onto Route 26 toward Moran and then finally into the mountains. Be mindful of the difference in terrain as you leave the rolling hills and traverse into mountain territory. Remember to always come prepared for unknown hazards.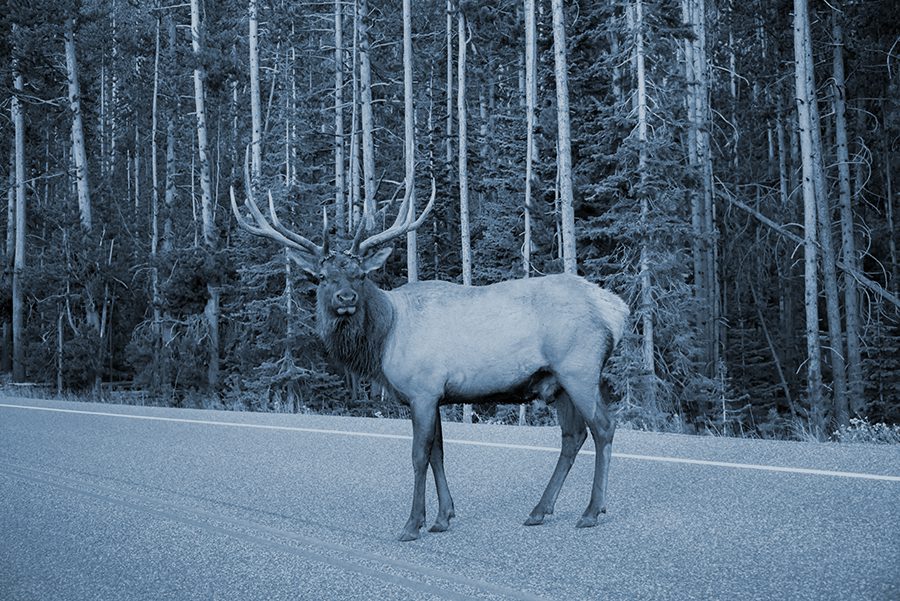 Motorcycle Ride #
6:
Highway 20 to Yellowstone East Entrance
This east-west highway stretching from Boston, Massachusetts to Newport, Oregon, runs for more than 3,300 miles across 12 gorgeous states. Entering the plains of southeast Wyoming and winding up through Yellowstone National Park, U.S. 20 offers a scenic drive straight into the heart of one of the most beautiful parks in the country. This route certainly belongs on our list of best motorcycle rides in Wyoming.
The most recommended route is to begin your journey in Cody and traverse up to Yellowstone's Grand Loop Junction. That way, you'll ride for quite a bit, winding next to the Shoshone River right into the park. Once you're riding through Yellowstone, keep an eye out for grizzlies foraging in the grassland. Side note: this route can be traveled west to east, as well. But the scenery is much more climatic if you launch in Cody. Be sure you fill up on gas and supplies before you leave.
Motorcycle Ride #7
:
U.S. 16: Buffalo to Tensleep
Easily one of the best motorcycle rides in Wyoming, U.S. 16 is truly a hidden gem for dedicated motorcyclists. Stretching from the heart of Yellowstone to Rapid City, South Dakota, this two-lane highway is nothing but smooth terrain, slow, gradual climbs, and numerous beautiful curves.
U.S. 16 offers impeccable panoramic views of wildlife and deep canyons leading up to the Big Horn National Park. Sunsets at the canyon on the west end are especially breathtaking. Also, according to the Wyoming Department of Transportation, this route is considered one of the easiest mountain drives in northern Wyoming.
Motorcycle Ride #8
:
Highway 130: Into the Snowy Range
Locally known as the Snowy Range Road, this 98-mile highway is a quick and winding route through lush mountain terrain. Making your way west from Laramie, you'll travel for a good stretch of straightaway until you reach the foothills of the Medicine Bow Mountains and the quaint town of Centennial. From there, you'll slowly wind your way up the range where you'll find numerous quality hiking trails to choose from, that is, if you plan on stopping, which you certainly should.
At the top of the pass, there's a great lookout at about 11,000 feet, with views of the green valley before you and a snowy white peak to your flank. As always, be mindful of other drivers as you make your descent down the other side of the mountain. You can never be too careful. Once you climb down the range, you can follow the highway north until you reach Walcott. Here you can fill up on fuel and grab a quick bite to eat at the interchange before heading back the way you came or taking I-80 east to Laramie.
Motorcycle Ride #9
:
Highway 34 (Laramie-Wheatland Road)
What better way to spend an early morning ride or a beautiful sunny afternoon than on one of the best motorcycle rides in Wyoming. Filled with plenty of wildlife and natural beauty, Highway 34, commonly known as Laramie-Wheatland Road, is a short 52-mile stretch which should take no more than two hours to traverse. Located in Albany and Platte counties, this trip makes for a quick getaway across a vibrant Wyoming terrain.
With plenty of streams, lush forests and smooth curves to venture past or stop and admire, Highway 34 is adored by many bikers for its simplicity and peaceful nature. You will not be disappointed!
Motorcycle Ride #
10:
I-90 to Bighorn National Forest
I-90 crosses through a number of states, including the northeastern corner of Wyoming, and is one of the country's most traversed transcontinental highways. Riding along the eastern edge of Bighorn National Forest, this route is not recommended during the bleak winter months.
However, if you have several days to travel in the summer, Bighorn is definitely worth driving through. Depending on where you ride, altitudes can reach up to 10,000 feet, with stunning vistas and wildlife practically roaming in every direction. Keep in mind that any type of service is seldom in the park, so bring supplies and fill up on gas beforehand.
The Advocates Motorcycle Accident Attorneys
Unfortunately, even great motorcycle rides can take unexpected turns. If you or a loved one is injured in a motorcycle accident, you will need an Advocate on your side. The attorneys at The Advocates are here to guide you through the aftermath of being injured in a motorcycle crash and will get you the recovery you deserve. Don't hesitate to call our office with any legal questions you may have. Our attorneys offer free consultations and are available 7 days a week. Simply call 307-271-6404 or chat with a live personal injury attorney from our homepage. You deserve an Advocate!