A Social Security Disability Attorney Can Help Your Case
If you have suffered a disability or illness and find yourself unable to work, you may qualify for social security disability insurance. The Social Security Administration provides financial assistance to disabled individuals, but you must qualify for one of their programs in order to receive aid.
In order to apply for SSDI or SSI benefits, you will need to compile many documents and records in order to prove that you are unable to work. If your claim is denied, things can quickly become even more complex. An attorney can help you navigate the application process and understand your options.
The Advocates' personal injury attorneys have been helping individuals suffering from illness or impairment with disability claims for three decades, and we are here to help you too. We will be by your side to assist you with your initial application, the appeals process, and any hearings or lawsuits if necessary.
If you are unable to work due to a medical condition and believe you qualify for Social Security Disability Insurance or Supplemental Security Income, contact The Advocates' law firm today to get started on the road to recovery.
Frequently Asked Questions
Not every accident requires an attorney. However, if the accident resulted in injuries or significant property damage, it is a good idea to contact a lawyer. An experienced personal injury attorney can help you navigate the claims process, which can be lengthy and complex. Your attorney will build your case, keep track of your medical records, negotiate with insurance companies, and represent you in court if necessary. Studies have shown that accident victims who hire a personal injury lawyer can receive settlements up to 3.5 times larger than if they settled on their own.
The best way to know if you have a case is to speak with an attorney. The Advocates offer free consultations—you can speak with a qualified legal team to understand what your case is worth without paying a dime. Once you have decided to hire an Advocate, we will investigate your accident to firmly establish liability.
Your initial consultation with us is always 100% free. There are never any upfront costs or hidden fees when you hire The Advocates.
Our attorneys work on a contingency basis, which means that our attorney fees are calculated as a percentage of your settlement. You will not pay us unless we win your case, and you receive a settlement.
Every personal injury case is different. There is no one-size-fits-all solution to accident claims. The length of the claims process will depend on the severity of your injuries, the willingness of the other party to settle, the court's caseload, and more.
In general, personal injury cases can take anywhere from several months to a few years. It's important to contact an attorney as soon as possible to get your case started. Each state has a statute of limitations for personal injury cases, after which you will lose your right of action.
When you hire The Advocates, we will begin investigating your accident immediately while you finish medical treatment. Once all evidence and medical records have been compiled, your attorney will send a demand letter to the other party's insurance company. At this point, negotiations will begin.
In many cases, a settlement can be reached during negotiations. If the other party refuses to make a fair offer, you may choose to file a suit. In the litigation phase, your attorney will represent you in court in front of a judge, jury, and/or arbitrator.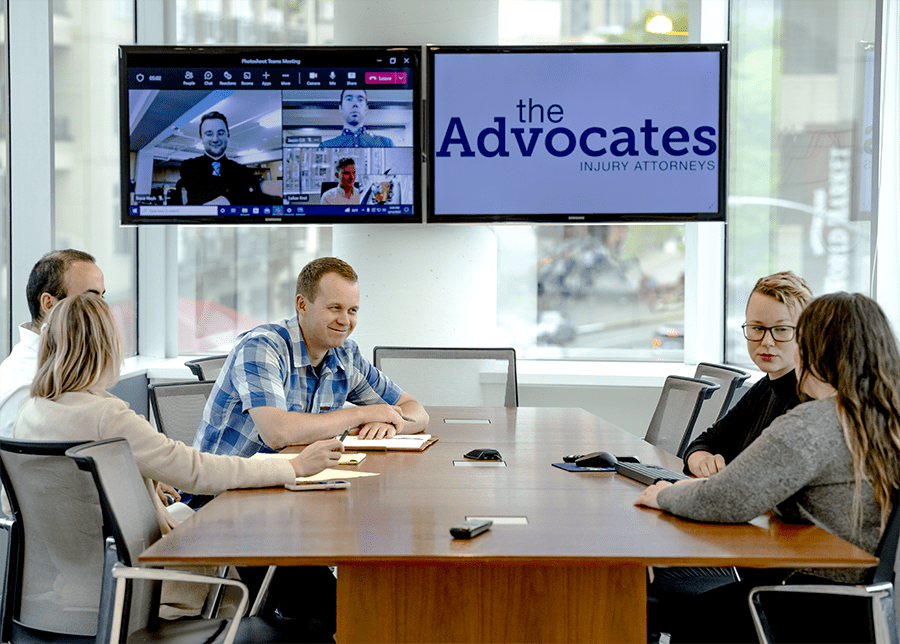 A Team of Legal Professionals Assigned to Your Case
For nearly 30 years, The Advocates have helped thousands of personal injury victims receive the compensation and care they deserve after their accidents, and we are prepared to do the same for you. 
We can help you:
Understand the claims process

Access medical care and other treatment such as physical therapy

Investigate your accident

Build your case

Negotiate with insurance adjusters
---
Talking to a Professional
No need to schedule an appointment
No need to wait for an email response
Free online consultation
Talk directly with an attorney
---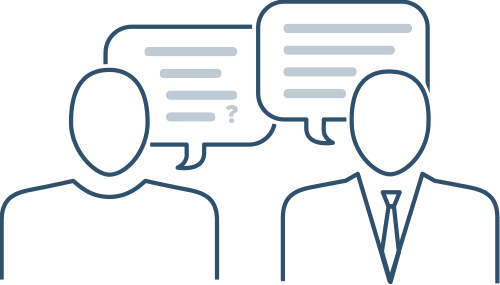 I was in an accident 3 years ago and had a very bad experience with the attorney back then I was in another accident last year and called the advocates mark and his team were amazing changed my view on accident attorneys they kept I'm touch with me every step of the way gave me authority on choices for myself I didn't have to go with what they said I could go against it and they still would have worked with me the same I had choices this time around I would always go with Mark I have even sent friends his way just cause I appreciate all the help and support the whole way threw.
- Amber Powers
My experience with the advocates was a good one. After being hit by a car on my motorcycle they helped me with a settlement with the insurance company to get the hospital bills paid. They were extremely helpful. They always answered any questions I had with in a day. Every email I sent was always responded to. If you unfortunately has to go through a injury by another person I would recommend them in helping you resolve any debt you have because if that injury. The Advocates were great to work with and help me get this unfortunate event behind me.
- Kevin Strehler
Steve and his crew at The Advocates were nothing short for amazing. They took my case after I was rear-ended resulting in neck surgery. Steve and company made sure all of the was taken care of and that I got the maximum compensation possible. I definitely recommend The Advocates
- Michael Henrie
Mr. Brad Johnson, our lawyer; was Awesome! He was very informative, kept us up to date on my case with regular calls. He returned calls back to us within 24 hours or less. Brad Johnson is very courteous, honest, kind, and a pleasure to talk to and work with. There are very few Lawyers out there that could even come close to the high morals that Brad Johnson has and has shown towards us. We need more lawyers like Brad Johnson . If we ever needed a disability lawyer again in the future; it would be Brad Johnson and The Advocates Firm that he works at. We will definitely turn ALL of our family and friends towards this lawyer and firm; in a heartbeat!!!
- Nancy Wanetick
I want to First say that I am truly thankful for the advocates Law Firm they have been a great service to me through this ordeal and Katie she is a tremendous lawyer someone that I would recommend she fights tooth and nail for her clients and the rest of the team they supported me to the fullest with that being said I would like to say for anyone who is trying to find an attorney to fight their case The Advocates is the way to go.
- Tony Smith
---
Social Security Disability FAQs
---
What types of disability benefits are available?
If the Social Security Administration determines that you are eligible for a social security disability claim, you may be entitled to one of the following types of benefits:
SSDI

for disabled widow, widower, or surviving divorced spouse

SSDI

for disabled child

SSI

for disabled child
Your eligibility for benefits will depend on the nature of your impairment, your work history, and your ability to work a job in any industry.
What information do I need to apply for benefits?
In order to apply for disability benefits with the SSA, you will need to provide the following information:
Your date and place of birth and Social Security number

Name, birthdate, and SSN of any current and former spouses

Names and birthdates of minor children

Your bank information

Medical evidence

of your

impairment

Your doctors' contact information

Details about treatments, medicines, and tests you have received

Information about your

work history

, including:

The amount of money you have earned in the last two years

Contact information for your employer(s)

Any

workers' compensation

claims you have filed or intend to file
Dates of any active US military service you had before 1968
Many of these pieces of information may require proof through documentation, such as birth certificates, W2s, medical records, and more.
How long will my claim take? 
Every SSD claim is different. There is no one-size-fits-all timeline to receiving social security benefits, so it is impossible to know beforehand exactly how long your Social Security Disability case will take.
After you have filed your initial application, it typically takes between 3-5 months for the SSA to reach a decision. However, several factors can lengthen the life of your case, including:
The amount of time it takes you to compile documentation

Whether your initial claim is approved or denied

Whether you choose to file a request for

reconsideration

The amount of time it takes to schedule your hearing before an

administrative law judge

(

ALJ

)
Some SSD cases are settled in a matter of months, while others can take more than two years. It is best to begin the claims process sooner rather than later, in order to determine whether you can receive SSD benefits as early as possible.
What should I do if my claim is denied? 
Your claim may be denied for a variety of reasons; in fact, many cases are not approved after the initial application.
Reasons your claim was denied may include:
Your

disabling condition

is not expected to last 12 months

You can either perform your work or another type of work

You did not provide sufficient

medical evidence

You did not follow medical treatments

Your

impairment

is a result of drug or alcohol use
If the SSA denies your claim for Social Security Disability benefits, you may begin the appeals process. A disability attorney can help you navigate the steps of the process to help you avoid making mistakes or oversights that can harm your claim.
The steps of the appeals process include:
Reconsideration

Hearing by an

administrative law judge

Appeals Council

review

Federal Court

review
The appeals process is typically the longest part of the life of a claim, so if your claim is denied, contact an SSDI lawyer right away to being working on your appeal.
---
Appeals Process Steps
---
Reconsideration
A reconsideration is the first step in appealing the SSA's decision. The reconsideration will be done by an individual who was not part of the first decision.
In the reconsideration step, you must first request an appeal within 60 days of denial. You will then resubmit all the evidence you submitted in your initial application, along with any additional evidence you have gathered.
Reconsiderations often take between 3-4 months. Around 14% of denied cases are successful after reconsideration.
Hearing by an administrative law judge
If your request for reconsideration is denied, you will then need to file an appeal for an ALJ to hear your case. Most claimants choose to have an SSDI attorney or other representative help them with their hearing.
Before your disability hearing, the ALJ will review your file. You have the opportunity to submit additional evidence to the records that have already been reviewed by the SSA. 
At your hearing, you will give a sworn testimony. You will be able to have witnesses give testimony as well. The judge may ask you questions regarding your employment history, impairment, and other related topics.
It can take upwards of two years to get your hearing scheduled and receive a decision from the ALJ.
Social Security Appeals Council review
If you disagree with the ALJ's decision after your hearing, you may then request a review of your case by the Social Security Administration's Appeals Council.
In this step, a panel of Appeals Council members will review the evidence you presented to the judge, along with any additional information you'd like to include. You may present an oral argument in front of the panel, or simply choose to have the council review your file.
It can take more than a year to receive a decision from the Appeals Council.
Federal Court Review
If your claim is still denied by the Appeals Council, your final course of action is to file a lawsuit with a US District Court. This suit will be filed in the district court for the judicial district where you live or work.
During a Federal Court Review, a Federal Judge will review your case and determine whether the ALJ who heard your case made an error in their decision. You will not be able to submit any new evidence at this point.
---
Why Should I Hire a Social Security Disability Attorney?
---
The SSDI claims process can be lengthy, complex, and stressful, particularly if your claim is denied after the initial application. It can be easy to miss deadlines or make mistakes that can damage or invalidate your claim.
Because SSDI cases can take a long time to come to an end, it is important to start the process right away. A personal injury lawyer with The Advocates can provide you with the legal representation you need by helping you avoid mistakes or omissions in your documentation, meet deadlines, prepare for hearings, and understand your best next steps.
In addition to legal advice, an Advocate will be there to provide emotional support and a listening ear during a difficult, often upsetting time in your life. With an Advocate on your side, you never have to feel alone.
Your Advocate will be here every step of the way for your Social Security Disability claim – our number one priority is your peace of mind. Contact our law office today for a free case evaluation. You deserve to have a competent, caring attorney on your side. You deserve an Advocate.
FREE CASE EVALUATION
CALL US
FILL OUT THE FORM BELOW,
OR CHAT WITH US FOR A FREE CONSULTATION TODAY