Lyft Accident Attorney in Nebraska
Rideshare companies like Uber and Lyft have become increasingly popular over the last decade, particularly in larger cities like New York and Los Angeles. They can be a useful alternative to taxis, public transportation, and private vehicles. However, Lyft drivers can be involved in auto accidents just like any other motorist, often resulting in property damage, serious injuries, and even death.
If you've been injured in a motor vehicle accident involving a rideshare service in Nebraska, it may be time to contact a Lyft accident lawyer. Your attorney can help you get the most out of your accident claim and help you get on the road to recovery.
Who Is Responsible for a
Rideshare Accident
in Nebraska?
Nebraska is a comparative fault state. This means that, in the event of an accident, each driver is assigned a percentage of the blame. As long as a driver is assigned less than 50% of the responsibility for the accident, they can receive compensation for their damages. The settlement they receive will be reduced according to their level of responsibility for the accident.
This is true in all Nebraska car accident cases, including Lyft car accidents. When one party files a personal injury claim, the at-fault driver's personal auto insurance is responsible for paying for damages. Lyft may also help cover passenger damages.
Do
Lyft Drivers
Have
Insurance Coverage
?
Nebraska law mandates that all drivers have liability insurance. Lyft drivers are required to have their own auto insurance policies. Your Lyft driver's personal insurance should cover them if they are responsible for an accident. 
Uber and Lyft also carry insurance policies. Lyft's insurance policy includes auto liability coverage of up to $1 million and bodily injury coverage for accident victims who are hit by uninsured or underinsured motorists (UM/UIM).
Whether Lyft will cover a driver's damages depends on whether the driver was working at the time of the accident. If the driver was offline, Lyft will not cover any damages. If the driver was working but had not yet accepted a ride request, Lyft provides low liability coverage.
If the driver has accepted a request or is actively driving a passenger, Lyft's commercial auto insurance and UM/UIM coverage will cover the driver.
Even with these policies in place, rideshare companies have been known to try to deny coverage for a variety of reasons. A Lyft accident attorney can help accident victims go up against these large corporations.
What Are the Requirements to Become a
Lyft Driver
in Nebraska?
In Nebraska, Lyft drivers must meet the following requirements:
At least 25 years of age with a valid driver's license

Able to pass a driver screening and

background check

Possess valid vehicle registration and

personal auto insurance

Possess a 4-door vehicle that is no older than 2007 (2009 in Western Nebraska) and can pass inspection

Possess a smartphone that can run the

rideshare app
Common Causes of Lyft Accidents
Distracted driving

Drunk driving

Road rage and reckless driving

Drowsy driving
Common
Rideshare Accident Injuries
As with any car accident, Lyft accident injuries can range from mild to life-threatening. Common injuries after a Lyft accident include:
Head injuries and traumatic brain injuries

Neck, back, and spinal injuries

Whiplash

Broken bones and teeth

Strains and sprains

Bruising and lacerations
What to Do After a
Car Accident
Involving a
Rideshare Vehicle
Whether you are a rideshare driver, passenger, or bystander, a car accident involving a Lyft vehicle can be traumatic. It's normal to panic or feel unsure about what to do. In order to increase your chances of a full physical, emotional, and financial recovery, take the following steps immediately after an accident.
How to handle an accident as an
Uber/Lyft
passenger
Check for injuries

Call the police

Exchange information with the other driver and any witnesses

Seek

medical attention

as soon as possible

Keep track of all

medical care

you receive

Report the accident to Lyft or

Uber

Contact a

personal injury lawyer
How to handle an accident as a
rideshare driver
Move your vehicle to safety
If possible, get your vehicle out of the way of traffic. Stay at the scene of the accident, but move into a nearby parking lot or onto the shoulder of the road.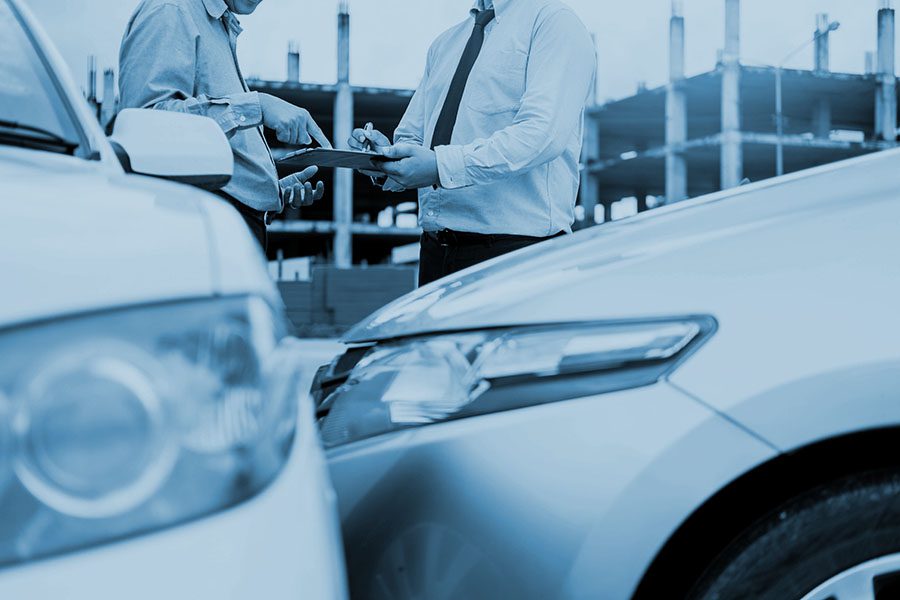 File a police report 
If anyone is seriously injured, call 911 and ask paramedics to come to the scene. Even if no one requires immediate medical attention, call the police and wait for them to arrive. Explain what happened to the responding officer without apologizing, admitting fault, or speculating on who was responsible. Stick to the facts of the accident.
It's important to file a police report. Many insurance companies will require a report before they cover any damages.
Stay at the accident scene 
Nebraska law requires all motorists who have been involved in an accident to remain at the scene to exchange information with other drivers. Failure to do so may result in a misdemeanor.
While at the scene, document everything you can about the scene using your camera. Take pictures of any injuries, property damage, weather and traffic conditions, and both vehicles.
Exchange information
Calmly and professionally get the following information from the other driver:
Contact information

(name, address, phone number)

Insurance information

License plate number
Speak to witnesses
Get the contact information of any witnesses to the crash. They may be able to help you build your case later on.
Seek medical treatment
Even if you do not believe you are injured, seek medical attention as soon as possible. You may have hidden injuries that do not make themselves known right away. The longer you wait to get them treated, the bigger the impact they may have on your health.
Tell your doctor you have been involved in a car accident so they know what injuries to look for.
Report the accident to your own insurance company
Even if the accident was not your fault, report it to your own auto insurance provider. You may have MedPay coverage on your insurance policy. MedPay will help cover some of your medical expenses up front.
If you were hit by someone who does not have auto insurance, or does not have sufficient coverage, your own insurance policy may help. If you have Uninsured or Underinsured Motorist coverage, your insurance company should help cover some of your costs.
Consider contacting a Lyft accident lawyer
If you suffered serious injuries while working as a Lyft or Uber driver, a car accident attorney can help you get maximum compensation from the at-fault driver's insurance provider. 
The rideshare company may also share some liability for the accident. However, they may try to claim that because their drivers are "independent contractors," the company is not responsible for any damages. A personal injury attorney can help you hold all responsible parties accountable and get you back on your feet.
What Damages Can You Seek in Your Nebraska
Lyft Accident Case
?
Every personal injury case is different. Depending on the circumstances surrounding your accident, you may be able to seek compensation for:
Medical bills

Lost wages

Loss of future earnings

Non-economic damages

, such as

pain and suffering

Funeral expenses (in the case of wrongful death)
An experienced personal injury attorney can help you build your Lyft accident claim and get the compensation you deserve.
How a Nebraska
Rideshare Accident Attorney
Can Help
When dealing with large corporations like Lyft, Uber, or major insurance companies, it can be difficult for the "little guy" to come out on top. These companies have power and money on their side, and they'll often do whatever they can to avoid giving accident victims the compensation they deserve.
The attorneys with The Advocates personal injury law firm have been representing car accident victims for more than 30 years. We know the tricks insurance companies use to get out of offering a fair settlement. We will build a strong case, negotiate a settlement, and represent you in court if necessary.
In addition to excellent legal representation, your Advocate will do everything they can to ensure your needs are met. We will help connect you with high-quality medical providers in your area. We can assist you in finding an auto body shop for your vehicle. We will even meet you at your house or place of work if you can't make it into our office.
Whether you were a passenger or driver in a Lyft or Uber accident, you need an experienced, competent legal team who will look out for your best interests. At The Advocates, your recovery is our number one priority.
Contact our office today for a free consultation. You deserve a Lyft accident attorney who will fight for maximum compensation in your personal injury case. You deserve an Advocate.