Beca Academica
Here at the Advocates, we are committed to improving ourselves and our community. One of the best ways to do this is through continuing education. We understand that pursuing a higher education degree can place a tremendous financial strain on both law students and their families.  To help with the costs of attending law school, we are offering the Advocates Scholarship.
For further information about what to include in the essay you submit to The Advocates, please visit our car accident lawyer page.
Scholarship Eligibility:
All prospective or current students enrolled in an accredited university or college, located within the United States may submit an application.
Scholarship Deadline:
The scholarship is offered biannually. The biannual deadlines are:
Fall Term: January 31st
Spring Term: June 30th
Scholarship Amount:
Scholarship Application:
Write a 300-500 words essay on the following topic:
What is the most common cause of motor vehicle accidents? How can such accidents be prevented in the future? What practices can you do personally to promote safe driving among your family and peers?
Essays should follow a basic essay and paragraph format including an introduction with a thesis statement, body paragraphs, and a conclusion. Bibliography must be included.
Scholarship Terms and Conditions:
By submitting your essay, you agree to our terms, namely all the rights of ownership to the Advocates, regardless if you are selected as the scholarship recipient or not. We reserve the right to republish all submitted essays.
We will not provide this information to any 3rd party. Your name and the name of your school may be used if you are selected as a prizewinner, or if you are part of our honorable mentions.
If you do not fill out all necessary information, you will forfeit your consideration for this scholarship.
As previously mentioned, if you are selected as the prizewinner, we will contact you through email or phone, and the award will be sent to your accredited institution.
If you are selected as the scholarships winner, we will contact you for a profile photo to be included with your scholarship on our scholarship page.
IMPORTANT: It may take several weeks after the deadline for us to read all entries and select a winner. In the meantime, please do not call or use the live chat function to inquire about your entry. These lines of contact go directly to attorneys and are for injury case inquiries only.If you are selected as a winner, The Advocates will contact you via phone or email and the money will be sent directly to your institution.
For additional information and tips about what to include in the essay you submit, please visit our page concerning car accidents, which you can find here: car accident attorney page.
Meet Our Summer 2023 Scholarship Winner – Morgan Madsen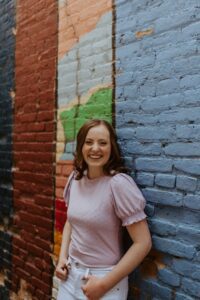 "Earlier this month, my friends and I went on a road trip to Montana.  On the border of Northern  Idaho, we stopped for gas.  My roommate Leo, a Montana native, warned the drivers of both vehicles that the next stretch could be dangerous as the light would bellow and the winding canyons would be full of deer." Just take it slow and stay alert," was the warning."
Please submit your information and essay in the form below.