The Most Dangerous Roads in Nebraska
5 Tips for Staying Safe on the Most Dangerous Roads in Nebraska
Make no mistake, agriculture is big business in Nebraska. Over 90% of the state being either farms or ranches and cattle outnumbering people 3 to 1. But there is more to the cornhusker state than just corn-fed beef. This midwestern state in the corn-belt is also home to a variety of unique attractions. From the largest woolly mammoth on display anywhere to the biggest train yard in the world, there is no shortage of spots to soak some up some classic Americana.
Omaha, the largest city in the state, sits just fifty-eight miles from the capital city of Lincoln, named after our 16th president. Together these two cities are home to over a third of the state's population and no trip through Nebraska would be complete without stops at both cities. Lincoln is home to the University of Nebraska-Lincoln and boasts one of the most storied college football teams in America, the Nebraska Cornhuskers. The capital building is a 400-foot domed tower with limestone carvings depicting 3,000 years of democracy and is home to only state legislature in America to eschew the two-party system in favor being unicameral. Omaha is renowned for its many museums, cultural attractions, and the famous Henry Doorly Zoo and Aquarium. 
Be prepared to get off the beaten path. You can discover some real gems if you are willing to get off the main roads. The birthplace of Kool Aid, a life size model of Stonehenge made entirely from cars or dig up your own fossils at Ashfall Fossil Beds are just a few of the unique sites that await you.
Driving in Nebraska can be quite an experience for someone just passing through. With one of the highest speed limits in the United States, spotty traffic enforcement outside of the principal areas, and 75% of the roads being unpaved, driving in Nebraska can require a different tact. Here is The Advocates list of 5 tips to stay safe on the most dangerous roads in Nebraska.
Avoid the Perils of Interstate 80
One of the original routes of the Interstate Highway System in 1956, Interstate 80 stretches from California to New Jersey following the historic route of the Lincoln Highway, the first road to span the entire United States. Tragically, Interstate 80 is near the top of the list deadliest roads in every state it passes through, and Nebraska is no exception. Being the only major interstate route in the state, Interstate 80 is the main route for commercial traffic and is teeming with big rigs day and night. Here are some risk factors you can expect if driving on Interstate 80.
High winds can cause dust storms in the western portion
Heavy commercial vehicle traffic at all hours
Congestion between Lincoln and Omaha
75 mph speed limit, except for stretch between Lincoln and Omaha
Increased scrutiny by law enforcement of cars with out-of-state plates
Frequent report of drivers being distracted, exceeding the speed limit, and driving erratically
The notorious reputation Interstate 80 has with locals is well deserved. Regional news has a steady stream of road closures from multi-car pileups and crashes involving tractor trailers. Excessive speed and distracted driving play a role in many of these accidents. The police recently reported issuing eighty speeding tickets in 2 hours at a single interchange to crack-down on what they characterize as a widespread disregard for the posted speed limits. Approach driving on this interstate with caution and use alternate routes whenever possible.
Beware of Dangers Lurking on Rural Roads
Although twice as many vehicle crashes occur in the urban areas of Nebraska, the fatality rate is 3 times higher for car accidents in the rural areas. Traffic enforcement is spotty out on the back roads tempting drivers to speed and engage in other reckless behavior. Road conditions can be quite varied once off the pavement and you could find yourself sharing the road with all manner of heavy equipment and farm vehicles. A considerable number of these accidents on these rural roads involves a rollover and they account for 38% of all fatalities. Here are some risk factors to take in account when traveling in the rural areas of Nebraska.
60% of traffic on the rural roads are heavy commercial vehicles
Expect to share the road with large, slow moving farm equipment
Less maintenance means road conditions can be poor and change rapidly
Soft shoulders, narrow bridges, loose gravel, and blind intersections are common
More likely to see animals wandering on the road
Deep ditches on the sides of the road may be difficult to see
Limited signage to warn you of approaching hazards
Dust can create situations with limited visibility
You can safely navigate the rural roads in Nebraska if you stay alert, keep your speed down, and use common sense. When crossing paths with farm equipment and heavy commercial vehicles, be sure to give them a wide berth.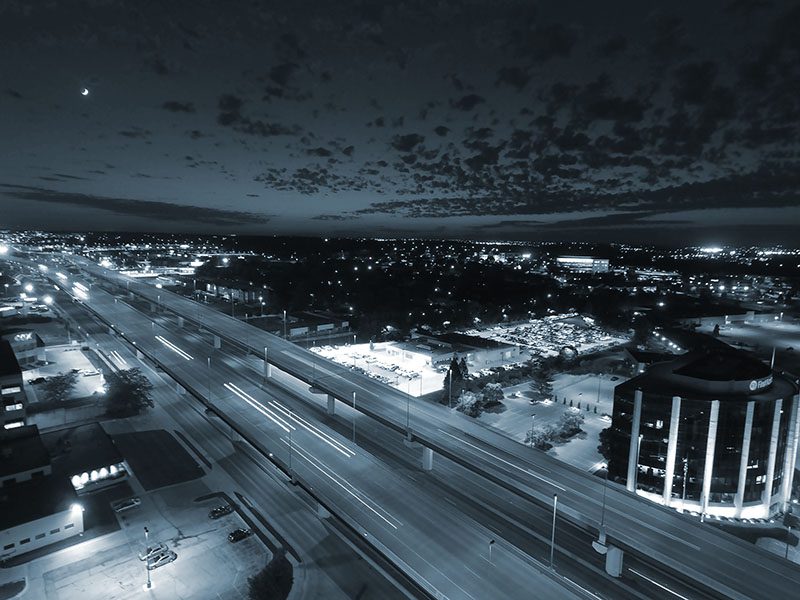 72nd and Dodge Street Intersection in Omaha
The second busiest intersection in Omaha is a magnet for accidents. Averaging over fifty accidents a year this intersection is the most dangerous in Omaha. Dodge street is a bit of a puzzle for drivers not used to it. Driver are not allowed to turn left on Dodge Street and there is a middle express lane that runs eastbound in the mornings and westbound in the evenings. Poor road conditions are partly to blame as chunks of pavement are reportedly missing.
Omaha is Home to the Worst Intersection in America
The four-way intersection of 132nd Street, L Street, Millard Avenue, and Industrial Road is the seventh busiest interchange in Omaha and sees over 70k cars a day. This roadway debacle features twenty-nine lanes of traffic headbutting with an array of 19 traffic lights and has received the dubious awards of worst intersection in America by Streets Blog USA and the most dangerous intersection for pedestrians by Time magazine. With so much going on here it is easy to see how a driver could get confused and make a mistake resulting in an accident. The best plan would be to avoid this intersection if possible. If you do find yourself here, make sure you are in the right lane to get you where you need to go and stay alert for erratic drivers.
Avoid Intersection of 27th and Cornhusker
Known as one of the most dangerous intersection in Lincoln, 27th Street and Cornhusker is an intersection to approach with caution. A complicated system of turn lanes and heavy traffic contribute to the high number of accidents here. Police blame the heavy traffic for the sheer number of accidents at this intersection. While the reasons for crashes vary, the police say that at city intersections like this distracted drivers top the list.
The Advocates have been a top personal injury firm for almost 30 years. If you have been injured in a car accident, you don't have to go through it alone. The expert attorneys at The Advocates can deal with hospital bills, claims adjusters, and insurance companies so you can stay focused on your recovery. Our experience and resources mean we can fight the insurance companies for every penny you are owed. Call today for a free consultation. An attorney from The Advocates is standing by discuss your case. You can contact our office by filling out the form below or chatting with a live attorney on our homepage. You deserve an Advocate!