A Bicycle Accident Attorney Can Help Your Case
Bicycle accidents can be devastating physically, emotionally, and financially. Bicyclists are often left with serious injuries and financial damages that may seem never ending.
The bike accident attorneys with The Advocates have been taking on injury cases for three decades and understand what you're going through. We are ready to take on your bicycle accident claim and help you obtain the compensation you deserve. If you need a competent, caring attorney for your personal injury claim, contact The Advocates for a free consultation today.
The Next Steps In Your Case
Injury

Immediately after your accident, check for injuries
Hire Attorney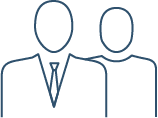 Contact The Advocates as soon as possible to begin the road to recover
Treatment

Seek medical attention as soon as you can
Property Damage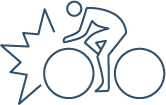 Get any property damage assessed and repaired
Treatment Completed

Once you've completed treatment, your case can move forward
Demand

Your Advocate will send a demand letter to the other party
Frequently Asked Questions
Not every accident requires an attorney. However, if the accident resulted in injuries or significant property damage, it is a good idea to contact a lawyer. An experienced personal injury attorney can help you navigate the claims process, which can be lengthy and complex. Your attorney will build your case, keep track of your medical records, negotiate with insurance companies, and represent you in court if necessary. Studies have shown that accident victims who hire a personal injury lawyer can receive settlements up to 3.5 times larger than if they settled on their own.
The best way to know if you have a case is to speak with an attorney. The Advocates offer free consultations—you can speak with a qualified legal team to understand what your case is worth without paying a dime. Once you have decided to hire an Advocate, we will investigate your accident to firmly establish liability.
Your initial consultation with us is always 100% free. There are never any upfront costs or hidden fees when you hire The Advocates.
Our attorneys work on a contingency basis, which means that our attorney fees are calculated as a percentage of your settlement. You will not pay us unless we win your case, and you receive a settlement.
Every personal injury case is different. There is no one-size-fits-all solution to accident claims. The length of the claims process will depend on the severity of your injuries, the willingness of the other party to settle, the court's caseload, and more.
In general, personal injury cases can take anywhere from several months to a few years. It's important to contact an attorney as soon as possible to get your case started. Each state has a statute of limitations for personal injury cases, after which you will lose your right of action.
When you hire The Advocates, we will begin investigating your accident immediately while you finish medical treatment. Once all evidence and medical records have been compiled, your attorney will send a demand letter to the other party's insurance company. At this point, negotiations will begin.
In many cases, a settlement can be reached during negotiations. If the other party refuses to make a fair offer, you may choose to file a suit. In the litigation phase, your attorney will represent you in court in front of a judge, jury, and/or arbitrator.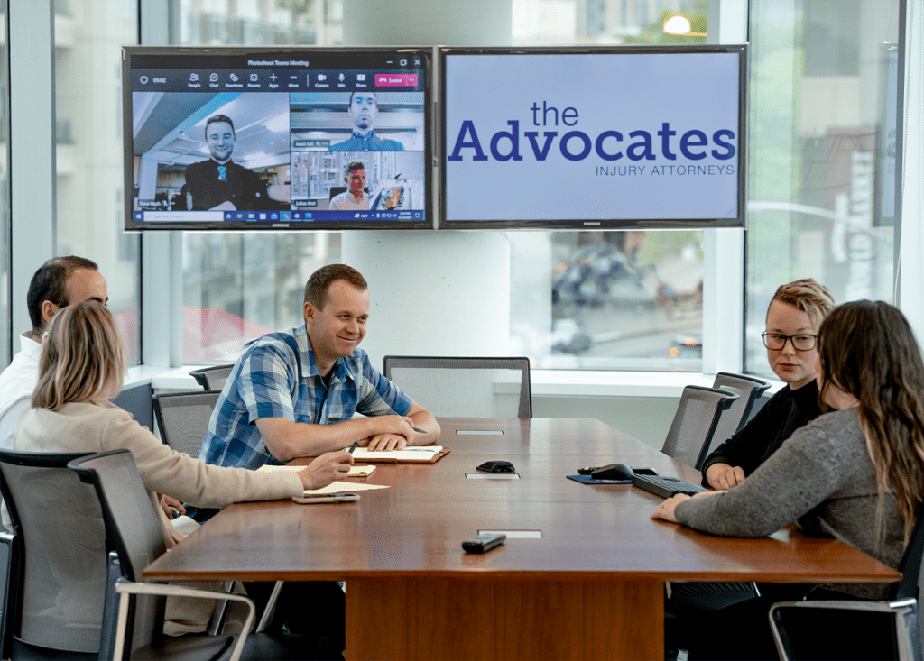 A Team of Legal Professionals Assigned to Your Case
For nearly 30 years, The Advocates have helped thousands of personal injury victims receive the compensation and care they deserve after their accidents, and we are prepared to do the same for you. 
We can help you:
Investigate your accident

Build your case

Negotiate with

insurance companies

Take your case to court if necessary
---
Talking to a Professional
No need to schedule an appointment
No need to wait for an email response
Free online consultation
Talk directly with an attorney
---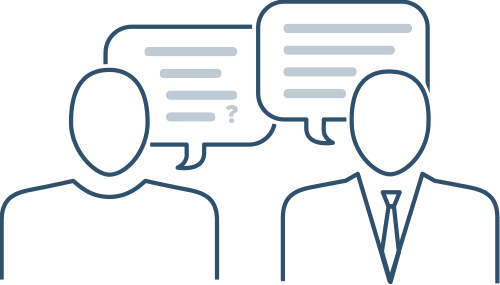 I was in an accident 3 years ago and had a very bad experience with the attorney back then I was in another accident last year and called the advocates mark and his team were amazing changed my view on accident attorneys they kept I'm touch with me every step of the way gave me authority on choices for myself I didn't have to go with what they said I could go against it and they still would have worked with me the same I had choices this time around I would always go with Mark I have even sent friends his way just cause I appreciate all the help and support the whole way threw.
- Amber Powers
My experience with the advocates was a good one. After being hit by a car on my motorcycle they helped me with a settlement with the insurance company to get the hospital bills paid. They were extremely helpful. They always answered any questions I had with in a day. Every email I sent was always responded to. If you unfortunately has to go through a injury by another person I would recommend them in helping you resolve any debt you have because if that injury. The Advocates were great to work with and help me get this unfortunate event behind me.
- Kevin Strehler
Steve and his crew at The Advocates were nothing short for amazing. They took my case after I was rear-ended resulting in neck surgery. Steve and company made sure all of the was taken care of and that I got the maximum compensation possible. I definitely recommend The Advocates
- Michael Henrie
Mr. Brad Johnson, our lawyer; was Awesome! He was very informative, kept us up to date on my case with regular calls. He returned calls back to us within 24 hours or less. Brad Johnson is very courteous, honest, kind, and a pleasure to talk to and work with. There are very few Lawyers out there that could even come close to the high morals that Brad Johnson has and has shown towards us. We need more lawyers like Brad Johnson . If we ever needed a disability lawyer again in the future; it would be Brad Johnson and The Advocates Firm that he works at. We will definitely turn ALL of our family and friends towards this lawyer and firm; in a heartbeat!!!
- Nancy Wanetick
I want to First say that I am truly thankful for the advocates Law Firm they have been a great service to me through this ordeal and Katie she is a tremendous lawyer someone that I would recommend she fights tooth and nail for her clients and the rest of the team they supported me to the fullest with that being said I would like to say for anyone who is trying to find an attorney to fight their case The Advocates is the way to go.
- Tony Smith
---
Wyoming Bicycle Accident Statistics
---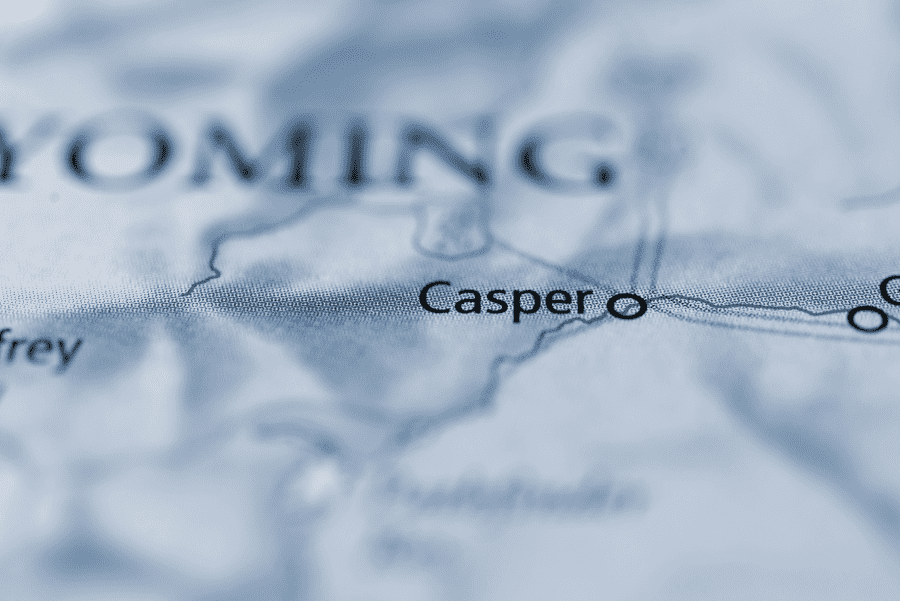 Where do bicycle deaths occur?
Cheyenne

and Casper see the

highest number of accidents

each year

Most

bicycle accidents

occur at intersections in urban areas

There are an average of 50

bicycle accidents

statewide each year

In recent years, there has been an average of 1 bicyclist killed in an accident annually. An average of 36 bikers are injured in bicycle crashes each year
Wyoming state bicycle accident statistics  
Men make up about 75% of

bike accident

victims

Bicyclist

fatalities in

Wyoming

consistently make up fewer than 1% of total accident fatalities

The total number of

bicycle accidents

nationwide has

decreased in recent years

, but the number of fatalities from

bike accidents

has increased

Most

bicycle accidents

occur in the evenings between 3:00 pm and 9:00 pm

The number of non-motorist accidents involving impaired drivers has increased in recent years

Between 20-30% of

bicyclists

killed in accidents have BACs above the legal limit

Around 1/3 of

bicycle accidents

involve alcohol (for either the biker, the driver, or both)

Cyclists who ride in groups are less likely to be struck by a vehicle than those who ride alone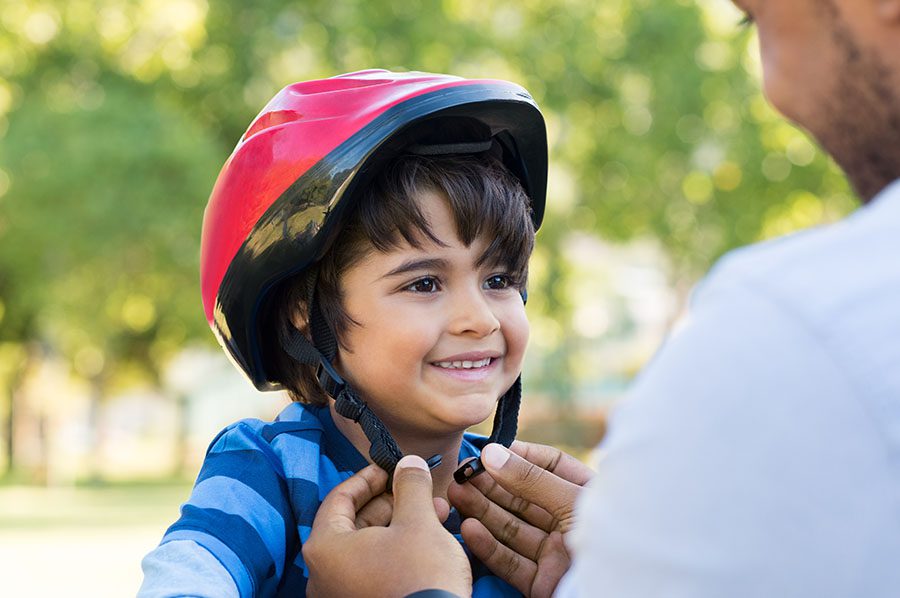 Bicycle helmet statistics 
The majority of fatal

bicycle accidents

involve a

head injury

A bike helmet

reduces the risk of

head injury

by more than 50%

Around 90% of

bicyclists

killed in accidents

were not wearing a helmet

at the time of the accident

More

cyclists

check into emergency rooms for

head injuries

every year than participants of any other sport

Helmet users are less likely to be hospitalized after an accident than non-helmeted riders

Men are less likely to wear helmets while riding than women, contributing to their high fatality rate

Children whose bicycle helmets fit poorly are at twice the risk for head injury while riding than children with properly fitting safety gear
Common causes of bike accidents
Speeding: The faster a car is moving, the less time a driver has to make decisions and react to hazards. It also increases the likelihood that the accident will result in

serious injury

or death

Distracted driving: Cell phone use, food consumption, and other activities that take drivers' attention away from the road

drastically increase the risk of an accident

Impaired driving:

Bike accidents

are far more likely to happen when the driver or bicycle rider is under the influence of alcohol or drugs

Improper turns or lane changes: Drivers and riders who fail to signal their intent to change direction make it difficult for others on the road to predict their next move

Failure to yield the

right-of-way

: If

motorists

or

cyclists

are

unfamiliar with the

traffic laws

in the area, they may enter intersections when it is not safe to do so, endangering those around them

Poor visibility: If

cyclists

do not use proper lighting or reflective equipment, or are riding in conditions where visibility is low, it increases the chance of being hit by a car

Hazards in the roadway: When debris, potholes, or other obstacles are present on the road, cyclists are at risk of hitting them or suddenly veering off course to avoid them
Common bicycle accident injuries 
Depending on the nature of your accident and the protective gear you were wearing at the time, bicycle accident injuries can range from road rash to life-threatening conditions. Some common types of bicycle injuries are:
Traumatic brain injuries

Spinal cord injuries

Broken bones

Broken or missing teeth

Ligament tears or strains

Lacerations and bruising
---
Wyoming Bicycle Laws
---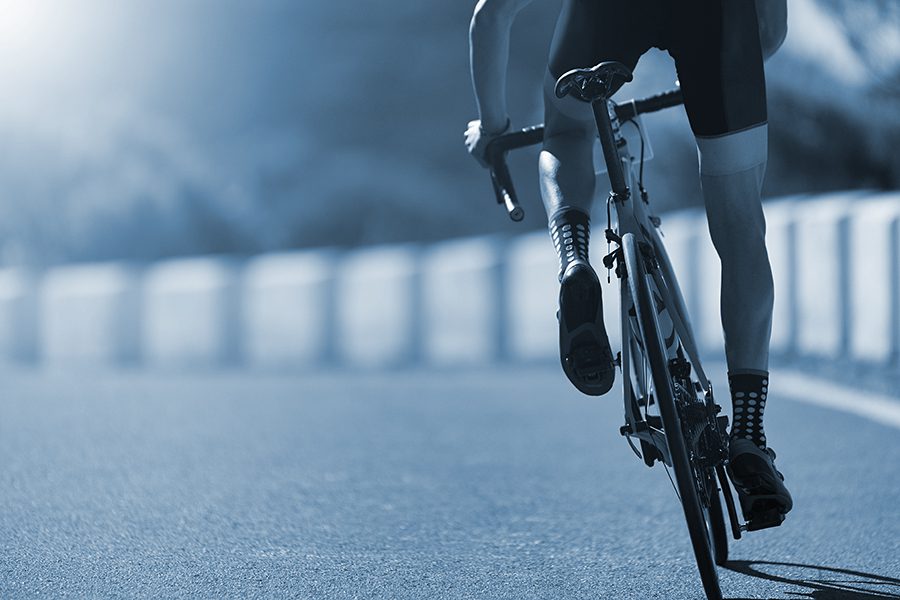 Does a bicyclist have to use the shoulder of the road in Wyoming?
Wyoming law does not require that bicyclists ride on the shoulder of the road, but they should ride as closely to the right side of the road as is safe and practical, except in specific circumstances. Some of these circumstances include:
Making a left hand turn

Passing a slow-moving vehicle

Avoiding debris or other hazards in the roadway

Traveling straight when the rightmost lane is a right turn lane
Cyclists may ride no more than two abreast on any roads or paths that are not exclusively used for biking.
Can I ride a bicycle on the sidewalk?
Wyoming prohibits the use of motor vehicles on sidewalks (with the exception of motorized wheelchairs). Bicycles operated by human power are, therefore, permitted upon sidewalks in most cases. Some cities or towns (such as downtown Jackson Hole) may have their own laws regarding sidewalk riding, so it is important to familiarize yourself with the rules in any area you plan to ride.
Children learning to ride a bike are encouraged to ride on the sidewalk.
When riding on the sidewalk, bikers should:
Yield to pedestrians

Give an audible warning when passing pedestrians or other non-motorized vehicles

Follow all the same signs and signals that pedestrians follow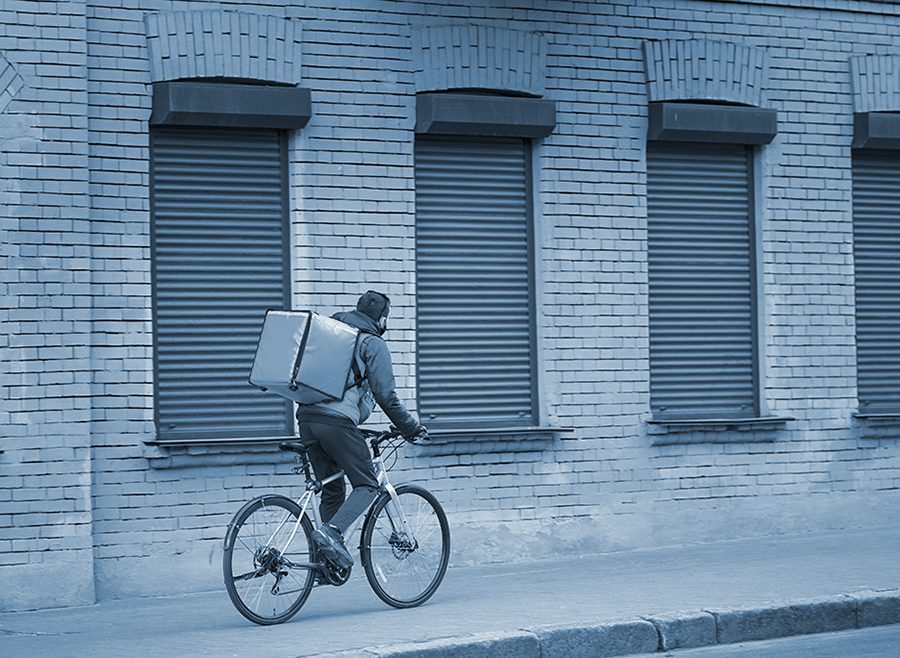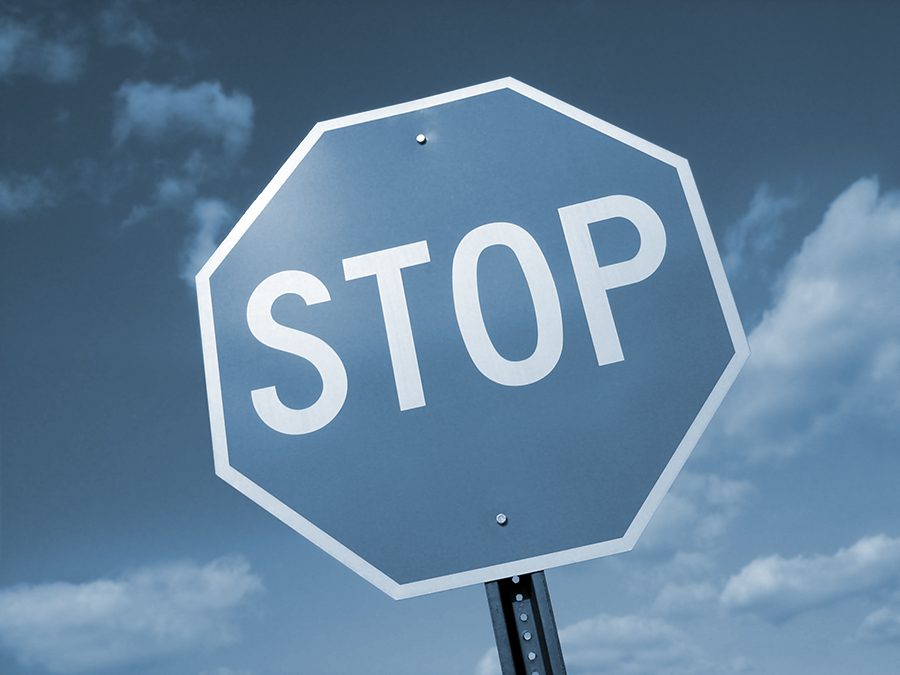 Do bicyclists have to obey stop lights and stop signs?
Cyclists have the same rights and duties as motor vehicles when traveling on roadways. This includes obeying traffic signs and signals, such as: 
Stop signs

Red lights

Yield signs

Lane markings

Officers or other people authorized to direct the flow of traffic
What are the hand signal rules for bicyclists?
When turning, cyclists should use the universally-recognized hand signals to alert drivers to their intentions. Using these signals is just as important as using a blinker is for motorists. Cyclists are required under Wyoming law to signal their intent to turn.
In general, hand signals should be done using the left arm. The  following hand signals help communicate your plans to drivers:
Left turn: extend your left arm straight out to the side, parallel to the ground

Right turn: extend your left arm out to the side and bend your elbow 90 degrees so your forearm points straight up OR extend your right arm straight out to the side

Stop: extend your left arm out to the side and bend your elbow 90 degrees so your forearm points down toward the ground
Do bicyclists have to wear a helmet in Wyoming?
There is no state law requiring helmet use for bicyclists in Wyoming. However, regardless of the law, bikers should wear a helmet at all times when riding in order to keep themselves safe.
What reflectors and lights have to be on a bicycle in Wyoming?
When riding at night, proper lighting is critical to keeping bikers safe. Additionally, reflector strips increase safety during the day. The following lights and reflectors should be attached to bicycles, particularly when riding in low visibility:
A white light attached to the front of the bike that is visible from at least 500 feet at night

A red rear lamp or

reflector

that is visible from 600 feet when illuminated by low-beam headlights

Reflective material visible from 500 feet on the right and left sides
Bicycles should also be equipped with brakes that allow them to stop within 25 feet when traveling at 10 miles per hour on dry pavement.
---
When Should I Hire a Bicycle Accident Attorney?
---
After a bicycle crash, a personal injury lawyer can help you recover. Wyoming is a modified comparative negligence state, which means that in order to receive any damages, you must prove that the other party was more responsible for the accident than you were. An attorney will help you gather evidence and negotiate with insurance companies.
Insurance providers will make it very difficult for you to obtain maximum compensation for your damages. They will likely fight you at every turn to avoid offering a fair settlement. When dealing with injuries, the stress from fighting with insurance adjusters can be detrimental to your recovery.
The Advocates personal injury law firm has years of experience representing bicycle accident cases. We are ready to assist you in building your case and receiving the settlement you deserve. We will help you understand your medical bills, get your bicycle repaired, and get your life back on track.
The Advocates will be there for you every step of the way, for both your legal and personal needs. We offer a 24/7 direct line of contact with your legal team and provide regular updates throughout the entirety of your case. Contact us today for a free case evaluation. You deserve an attorney who truly cares about your well-being. You deserve an Advocate.
FREE CASE EVALUATION
CALL US
FILL OUT THE FORM BELOW
CHAT WITH US