Montana Personal Injury Lawyers Are Here to Help You
After my accident, I felt like things would never be the same. The Advocates helped me recover.
---
Find an office near you
The Advocates constantly strive to provide you with more effective service. Our four offices in Montana are staffed with attorneys and legal professionals local to the area and passionate about serving their community. Find your nearest office below.
---
Why Should You Choose our Personal Injury Law Firm?
$
500
Million+
recovered for clients
---
200
Team members committed to you
---
---
Our practice areas
Whether you have been injured in a car accident on I-90 or bitten by a loose dog, The Montana Advocates can help.
Frequently asked questions
Not all accidents require a lawyer. However, if the accident caused injuries or significant property damage, it is a good idea to contact an attorney. An experienced personal injury attorney can help you navigate the claims process, which can be long and complex. Your attorney will develop your case, track your medical records, negotiate with insurance companies, and represent you in court if necessary. Studies have shown that accident victims who hire a personal injury attorney can receive compensation up to 3.5 times greater than if they did it on their own.
The best way to know if you have a case is to talk to a lawyer. The Advocates offer free consultations – you can speak with a qualified legal team to understand the value of your case without paying a cent. Once you have decided to hire an Advocate, we will investigate your accident to firmly establish liability.
Your initial consultation with us is always 100% free. There are never any upfront costs or hidden fees when you hire The Advocates.
Our attorneys work on a contingency basis, meaning our attorney fees are calculated as a percentage of your settlement. You won't pay us unless we win your case and you receive a settlement.
Every personal injury case is different. There is no one-size-fits-all solution for accident claims. The length of the claim process will depend on the severity of your injuries, the other party's willingness to settle, the court's caseload, and more.
In general, personal injury cases can take from several months to a few years. It is important to contact an attorney as soon as possible to begin your case. Each state has a statute of limitations for personal injury cases, after which you will lose your right of action.
When you hire The Advocates, we will begin investigating your accident immediately while you complete your medical treatment. Once all evidence and medical records have been collected, your attorney will send a demand letter to the other party's insurance company. At this point negotiations will begin.
In many cases, an agreement can be reached during negotiations. If the other party refuses to make a fair offer, you may choose to file a lawsuit. In the litigation phase, your attorney will represent you in court in front of a judge, jury and/or arbitrator.
---
Your team of Advocates
The Advocates are not just personal injury attorneys. When The Montana Advocates takes your case, you get a full team that will see your claim through to the end. Their team will be there to help you every step of the way to answer your questions, explain the claims process, communicate with medical and insurance providers, and make sure you get the settlement you deserve.
---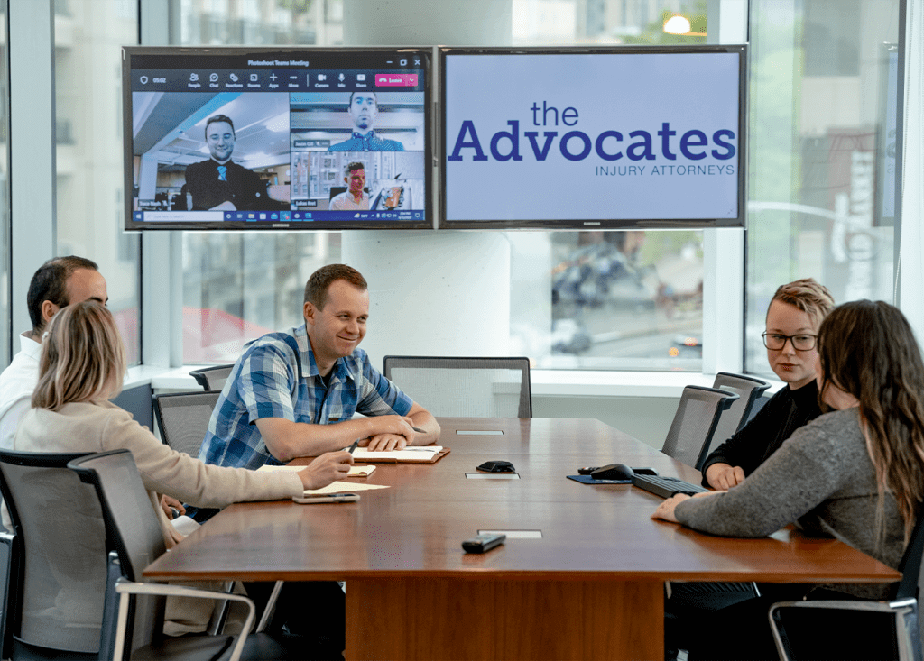 ---
What our clients have to say
---
The Advocates get results and the proof is our thousands of satisfied clients. Read what they have to say below.
Caity Jones | Salt Lake City, UT

When I first got in my accident my family had no idea where to turn to. Doug at the Advocates is a very easy going person and was willing to deal with the insurance company so I didn't have to. Looking for an attorney can be difficult, but the advocates are ready and willing to help you fight to get what you deserve. Without the advocates, I wouldn't have been able to be treated by a chiropractor for my injuries. After a year of going against one of the worst insurance companies to deal with he was able to get a settlement. Not only did he get a settlement from the at fault party, but is now fighting my insurance company due to her underinsured policy. If you're looking for an insurance attorney, your best bet is the advocates. If they believe you have a case, they are willing to fight for you.
- Kaydyn P., Montana
Doug and his team are so amazing. My daughter was in a major car accident that nearly took her life and left us with alot of really high bills. They took over the headache of dealing with auto and health insurance companies and all the bills that just kept coming in. They worked hard for us for 2 years and in the end my daughter came away with a settlement which was completely unexpected. So glad we had "Advocates" on our side.
- Sommer R., Montana
Couldn't be happier with my experience start to finish with The Advocates. I partially chose them for the band which strongly resonated with me in my situation where I felt I did not have an advocate and was overwhelmed by all the injuries sustained with no recourse. Contacting The Advocates gave me hope. From the first consultation to the checking in to see how I was recovering, they were kind and professional. Although it was a long process, the results speak for themselves. Thank you Kathryn for wrapping up everything and being a great first-time Lawyer experience for me. Cassidy, thank you for always being there for me and assisting throughout the waiting!
- Katie H., Montana
The Advocates are experienced Montana attorneys
The Advocates personal injury law firm was founded in 1993 and has represented accident victims since then. We understand the difficulties you face after your accident and are committed to providing you with the compensation you deserve.
Our attorneys are prepared to present you with a solid injury claim, negotiate with insurance companies on your behalf, and take your case to court if necessary. We will do everything in our power to make your recovery as smooth as possible.
When do I need a personal injury lawyer in Montana?
It is true that not all accidents require a lawyer. However, if you suffered serious injuries and property damage, a Montana personal injury attorney can help.
After an accident, you may be able to seek compensation for:
Medical bills
Lost wages
Loss of future earnings
Pain and suffering
Funeral expenses (in case of death due to negligence)
However, if you try to resolve your case on your own, you may be leaving money on the table. Many insurance companies actively fight to avoid offering you a fair settlement.
The Advocates have over 30 years of experience negotiating with insurance providers. We can tell you how much your personal injury case is worth and fight to get you paid fairly by these multi-million dollar corporations.
Schedule a free consultation with our Montana personal injury attorneys
Whether your injuries are the result of a car accident, a defective product, or a premises liability accident, The Advocates can help. Case evaluations are always free, so you can safely contact us to discuss your potential claim. We have offices in Billings, Great Falls, Lewistown, and Missoula, MT.
If you have been injured in the state of Montana, don't wait to begin the road to recovery. Contact us today by calling our office, filling out our form, or using the chat feature in the bottom right corner of your screen. You will be connected with a real personal injury attorney who can start your accident case right away.