A Motorcycle Accident Attorney Can Help Your Case
The personal injury attorneys with The Advocates have been representing motorcycle accident victims for nearly 30 years. We understand the stress and pain that come with any kind of injury, and we are here to help. We will work hard to help you have the most stress-free recovery possible while also obtaining a fair settlement for the damages you incurred after your motorcycle accident.
If you or a loved one has been injured in a motorcycle crash in Wyoming and need a caring, experienced lawyer for your personal injury claim, contact The Advocates for a free consultation.
The Next Steps In Your Case
Injury

Immediately after your accident, check for injuries
Hire Attorney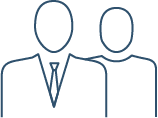 Contact The Advocates as soon as possible to begin the road to recovery
Treatment

Seek medical attention as soon as you can
Property Damage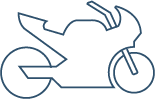 Get any property damage assessed and repaired
Treatment Completed

Once you've completed treatment, your case can move forward
Demand

Your Advocate will send a demand letter to the other party
Frequently Asked Questions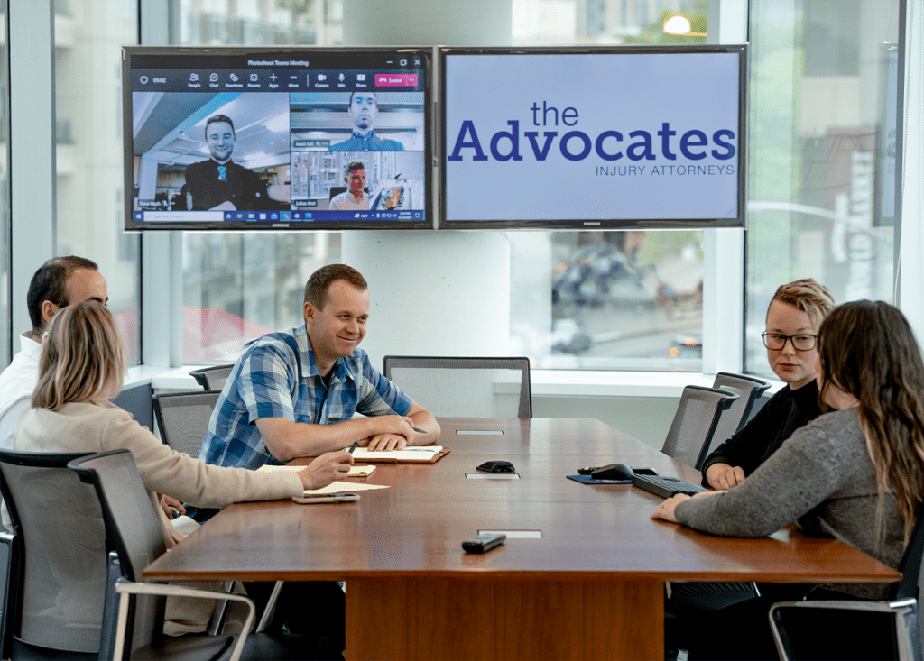 A Team of Legal Professionals Assigned to Your Case
For nearly 30 years, The Advocates have helped thousands of personal injury victims receive the compensation and care they deserve after their accidents, and we are prepared to do the same for you. 
We can help you:
Investigate your accident

Build your case

Negotiate with

insurance companies

Take your case to court if necessary
---
Talking to a Professional
No need to schedule an appointment
No need to wait for an email response
Free online consultation
Talk directly with an attorney
---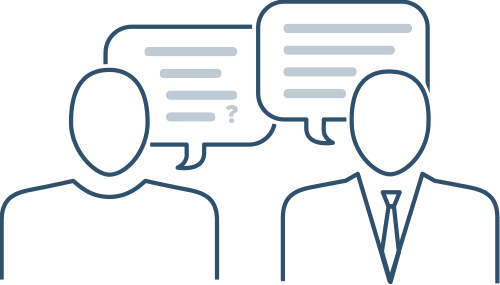 I was in an accident 3 years ago and had a very bad experience with the attorney back then I was in another accident last year and called the advocates mark and his team were amazing changed my view on accident attorneys they kept I'm touch with me every step of the way gave me authority on choices for myself I didn't have to go with what they said I could go against it and they still would have worked with me the same I had choices this time around I would always go with Mark I have even sent friends his way just cause I appreciate all the help and support the whole way threw.
- Amber Powers
My experience with the advocates was a good one. After being hit by a car on my motorcycle they helped me with a settlement with the insurance company to get the hospital bills paid. They were extremely helpful. They always answered any questions I had with in a day. Every email I sent was always responded to. If you unfortunately has to go through a injury by another person I would recommend them in helping you resolve any debt you have because if that injury. The Advocates were great to work with and help me get this unfortunate event behind me.
- Kevin Strehler
Steve and his crew at The Advocates were nothing short for amazing. They took my case after I was rear-ended resulting in neck surgery. Steve and company made sure all of the was taken care of and that I got the maximum compensation possible. I definitely recommend The Advocates
- Michael Henrie
Mr. Brad Johnson, our lawyer; was Awesome! He was very informative, kept us up to date on my case with regular calls. He returned calls back to us within 24 hours or less. Brad Johnson is very courteous, honest, kind, and a pleasure to talk to and work with. There are very few Lawyers out there that could even come close to the high morals that Brad Johnson has and has shown towards us. We need more lawyers like Brad Johnson . If we ever needed a disability lawyer again in the future; it would be Brad Johnson and The Advocates Firm that he works at. We will definitely turn ALL of our family and friends towards this lawyer and firm; in a heartbeat!!!
- Nancy Wanetick
I want to First say that I am truly thankful for the advocates Law Firm they have been a great service to me through this ordeal and Katie she is a tremendous lawyer someone that I would recommend she fights tooth and nail for her clients and the rest of the team they supported me to the fullest with that being said I would like to say for anyone who is trying to find an attorney to fight their case The Advocates is the way to go.
- Tony Smith
---
Wyoming Motorcycle Accident Statistics
---
Where do motorcycle accidents occur?
Cheyenne

and

Casper

see the

highest number of all types of motor

vehicle accidents

each year

Motorcycle accidents increase significantly in the months of July and August

Motorcyclists who visit Wyoming for the Sturgis Rally, or to ride the St. Joseph Highway, Beartooth Pass or the Wind River Canyon bring a significant increase of bikers on the roads in the summer months, leading to greater risks for all motorists

Rural areas see more motorcycle collisions with animals and fixed objects, while urban areas account for the highest number of motorcycle crashes involving other vehicles
Wyoming motorcycle accident statistics  
Around 30% of all serious accidents include speeding as a major factor

Motorcycle crashes

make up only 4% of all registered vehicles in

Wyoming

, however, they account for around 15% of all fatal crashes

Nearly 90% of

motorcycle

accident victims

are male

Around 30% of

motorcycle crashes

happen at intersections

There are around

200 motorcycle injuries and

fatalities

every year in the state

Motorcyclists losing control of their bike is the largest contributing factor to motorcycle accidents in the state, followed by collision with other motor vehicles and crashes caused by wildlife on the roadway
Motorcycle helmet statistics 
More than 60% of

motorcyclists

who were killed in accidents over the last decade were not wearing a helmet

The most common

motorcycle accident injury

is to the lower extremities, but the most

severe injuries

are often to the head

Helmets reduce the risk of head injury by 69%
Common causes of motorcycle accidents
Distracted driving: Drivers of motor vehicles become much more dangerous and unpredictable when not fully focused on the road

Impaired driving: Around 25% of critical motorcycle accidents over the last five years involved at least one impaired driver

Failure to see the

motorcyclist

: After many accidents, drivers of passenger vehicles claim they

did not see the

motorcycle rider

in the moments leading up to the crash

Failure to yield the right-of-way: If motorists are unfamiliar with the traffic laws in the area, they may enter intersections when it is not safe to do so, endangering those around them
Common motorcycle accident injuries 
Depending on the nature of your accident and the protective gear you were wearing at the time, motorcycle accident injuries can range from road rash to life-threatening conditions. Some common types of motorcycle accident injuries are:
Traumatic brain injuries

Spinal cord injuries

Disfigurement

Broken bones

Broken or missing teeth

Ligament tears or strains

Lacerations and bruising ("road rash")
---
Wyoming Motorcycle Laws
---
What is a "motorcycle" under Wyoming law?
In the state of Wyoming, a motorcycle is defined as a vehicle that: 
Is powered by a motor

Has a seat or saddle for the operator

Travels on not more than 3 wheels

May have a sidecar attached for transporting a single passenger
For the purpose of registration, this definition includes motorized bikes and scooters, but not mopeds, multipurpose vehicles, electric bicycles, or off-road recreational vehicles.
Is lane splitting legal in Wyoming?
Lane splitting, or the practice of motorcycles sharing lanes with passenger vehicles to reduce traffic congestion, is illegal in Wyoming. 
Motorcycles are entitled to the full use of a lane and may ride no more than two abreast in a single lane. Motorcycles may not share lanes with other motor vehicles.
Are helmets required for motorcyclists in Wyoming?
Minors must wear helmets when operating or riding a motorcycle in Wyoming. The helmet must be securely fastened on the head of the rider, and should meet or exceed the helmet standards set by the American National Standards Institute.
Regardless of the requirements of the law, it is wise for all motorcycle operators or passengers to wear a helmet. Helmets with goggles or face shields help protect the eyes from bugs and debris, which keeps everyone on the road safe.
What licenses must a motorcyclist have to ride on public roads?
In order to operate a motorcycle in the state of Wyoming, a person must do the following:
Reach an age of at least 17 years

Provide proof of identification and

Wyoming

residency

Pass a written test and a driving test

Pass a vision screening

If under 18, have a release signed by a legal guardian
What equipment must a motorcycle have to be street legal?
In order to be considered street legal, a motorcycle must have:
Legal license, registration, and insurance

Working brakes and brake lights

Headlights and tail lights

Side mirrors

Tires in good working condition

A horn

Handlebars that do not reach above the shoulders of the driver

A seat and footrests for all riders
What is the number of persons allowed on a motorcycle?
If a motorcycle is designed for two people, the passenger must ride upon the permanent, regular seat. If the motorcycle is not designed to carry more than one person, no passengers may ride, unless a sidecar is attached. One passenger may ride in a sidecar.
---
When Should I Hire a Motorcycle Injury Attorney?
---
If you were injured in a motorcycle accident, you will need to prove that the driver of the vehicle was at fault in order to receive any damages. Wyoming is a modified comparative fault state, which means that at least one driver will be found at-fault. Fault may be shared by drivers. If you are found to be partially responsible for the accident, your claim will be reduced accordingly.
The other driver's insurance company will likely do whatever they can to avoid offering fair compensation. They may try to get you to settle for less than you deserve, diminish the severity of your injuries, or deny liability altogether.
The Advocates' personal injury law firm has years of experience negotiating with insurance providers and fighting for our clients' right to maximum compensation under the law. We understand that trying to fight with insurance companies on your own can be stressful and upsetting, and ultimately hinder your recovery.
We will take on the stressful parts of the claims process for you, from negotiating with the other party to helping you understand your medical bills. We offer 24/7 open communication with your legal team, so you're never left feeling confused or in the dark. Contact us today for a free case evaluation. You deserve excellent legal representation for your personal injury case. You deserve an Advocate.
FREE CASE EVALUATION
CALL US
FILL OUT THE FORM BELOW
CHAT WITH US