The North Dakota Advocates Are Here for You
After an accident, it's normal to feel anxious, upset, and overwhelmed. The personal injury attorneys with The North Dakota Advocates are here to help.
---
Find an Office Near You
The Advocates are constantly striving to serve you more effectively. Our Williston office is staffed with attorneys and legal professionals who are local to the area and are passionate about serving their community.
---
$
500
Million+
recovered for clients
---
200
Team members committed to you
---
---
Our Practice Areas
Whether you've been hit by a commercial truck on I-29, injured in a motorcycle crash in Fargo, or bitten by a loose dog, The North Dakota Advocates can help.
Frequently Asked Questions
Not every accident requires an attorney. However, if the accident resulted in injuries or significant property damage, it is a good idea to contact a lawyer. An experienced personal injury attorney can help you navigate the claims process, which can be lengthy and complex. Your attorney will build your case, keep track of your medical records, negotiate with insurance companies, and represent you in court if necessary. Studies have shown that accident victims who hire a personal injury lawyer can receive settlements up to 3.5 times larger than if they settled on their own.
The best way to know if you have a case is to speak with an attorney. The Advocates offer free consultations—you can speak with a qualified legal team to understand what your case is worth without paying a dime. Once you have decided to hire an Advocate, we will investigate your accident to firmly establish liability.
Your initial consultation with us is always 100% free. There are never any upfront costs or hidden fees when you hire The Advocates. Our attorneys work on a contingency basis, which means that our attorney fees are calculated as a percentage of your settlement. You will not pay us unless we win your case, and you receive a settlement.
Every personal injury case is different. There is no one-size-fits-all solution to accident claims. The length of the claims process will depend on the severity of your injuries, the willingness of the other party to settle, the court's caseload, and more. In general, personal injury cases can take anywhere from several months to a few years. It's important to contact an attorney as soon as possible to get your case started. Each state has a statute of limitations for personal injury cases, after which you will lose your right of action.
When you hire The Advocates, we will begin investigating your accident immediately while you finish medical treatment. Once all evidence and medical records have been compiled, your attorney will send a demand letter to the other party's insurance company. At this point, negotiations will begin. In many cases, a settlement can be reached during negotiations. If the other party refuses to make a fair offer, you may choose to file a suit. In the litigation phase, your attorney will represent you in court in front of a judge, jury, and/or arbitrator.
---
Your Team of Advocates
The Advocates are not just personal injury attorneys. When The North Dakota Advocates take your case, you get an entire team that will see your claim through to the very end. Your team will be there for you every step of the way to answer your questions, explain the claims process, contact medical and insurance providers, and make sure you obtain the settlement you deserve.
---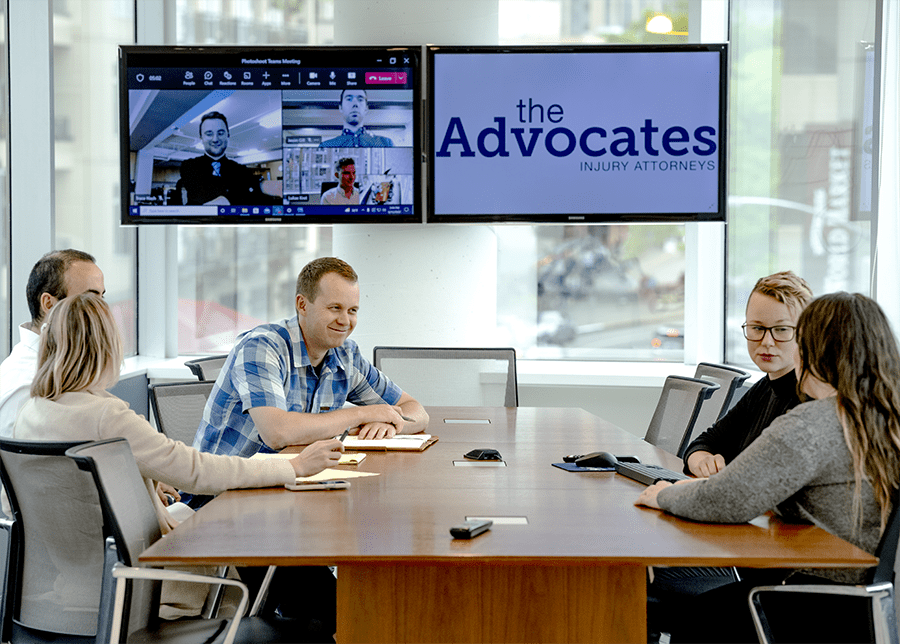 ---
What Our Clients Have to Say
---
The Advocates get results, and the proof is in our thousands of satisfied clients. Read what they have to say below.
Caity Jones | Salt Lake City, UT

I really liked working with this office, the entire office. They are professional and actually listen to you even when all you have to do is talk to someone about how you feel. I appreciate all the hard work they put into my case. If I ever need to return the favor I will definitely put their name out there.
L. Pick
After spending over a month in a half playing phone tag with the other persons insurance company, everything got too much for me mentally and physically. I reached out to The Advocates and from that point on, they took over my whole case for me so I could focus on healing... I will be eternally grateful.
T. Pike
These folks are amazing. I was in a pretty bad accident in April of 2021 and called them, they took excellent care of me and got everything taken care of. I had peace of mind through the entire process and they had constant contact with me.
M. Woods
---
---
Real People Ready to Help You
Just like you, The North Dakota Advocates are parents, caretakers, neighbors, friends, and community members. We drive the same roads, bike the same trails, and support the same businesses as you do. Our number one priority is always the well-being of the communities we serve, because they're our communities too. From Grand Forks to Williston and everywhere in between-- when you hire The Advocates, you get real North Dakotans who understand what you're going through.