A Motorcycle Accident Lawyer Can Help Your Case
If you spend any time on a motorcycle, the risk of an accident is always present. Many drivers don't see a motorcycle until it is too late. Unfortunately for the motorcyclist, this can mean serious injury or even death.
A motorcycle accident can leave you with pain and debilitating injuries. Your motorcycle is probably damaged, and the expenses may seem endless. It is easy to feel lost or overwhelmed after a collision. You can be sure where to start your physical, emotional and financial recovery.
If your accident was the fault of a negligent driver, you deserve to claim the damages you have suffered as a result. Attorneys can help you build your personal injury case, negotiate with insurance companies, and represent you in court if necessary. Contact us today for a free consultation.
The Next Steps In Your Case
Injuries

Immediately after the accident, check for injuries
Hire a lawyer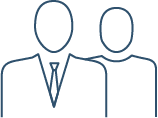 Contact The Advocates as soon as possible to get started on the road to recovery
Treatment

Seek medical attention as soon as you can
Material damage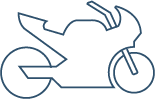 Assess and repair property damage
Complete Treatment

Once you have completed treatment, your case can move forward
Demand

Your lawyer will send a letter of complaint to the other party
Frequently Asked Questions
Not all accidents require a lawyer. However, if the accident has caused significant injuries or property damage, it is a good idea to contact an attorney. An experienced personal injury attorney can help you navigate the claims process, which can be long and complex. Your attorney will build your case, keep track of your medical history, negotiate with insurance companies, and represent you in court if necessary. Studies have shown that accident victims who hire a personal injury attorney can receive settlements up to 3.5 times larger than if they did it on their own.
The best way to know if you have a case is to talk to an attorney. The Advocates offer free consultations – you can speak with a qualified legal team to understand what your case is worth without paying a cent. Once you have decided to hire an Advocate, we will investigate your accident to firmly establish liability.
Your initial consultation with us is always 100% free. There are never any upfront costs or hidden fees when you hire The Advocates.
Our attorneys work on a contingency basis, meaning our fees are calculated as a percentage of your settlement. You will not pay us unless we win your case, and you receive a settlement.
Every personal injury case is different. There is no one-size-fits-all solution to accident claims. The length of the claim process will depend on the severity of your injuries, the other party's willingness to settle, the court's workload, and more.
In general, personal injury cases can last from several months to several years. It is important to contact an attorney as soon as possible to start your case. Each state has a statute of limitations for personal injury cases, after which you will lose your right of action.
When you hire The Advocates, we will begin investigating your accident immediately while you complete your medical treatment. Once all evidence and medical records have been compiled, your attorney will send a demand letter to the other party's insurance company. At this point, negotiations will begin.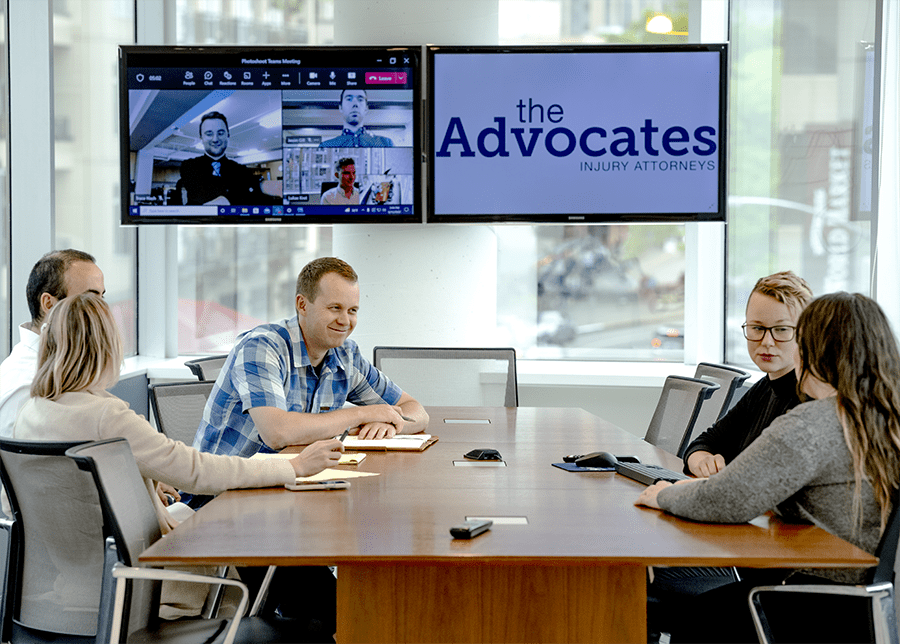 A team of car accident professionals assigned to your case
For 30 years, The Advocates personal injury attorneys have helped victims receive the compensation and care they deserve after their accidents, and we are prepared to do the same for you.
We can help you:
Understand the claims process
Investigate your accident
Build your case
Negotiate with insurance experts
Know your medical bills
You only pay if we win your case!
---
Talking to a Professional
No need to schedule an appointment
No need to wait for an email response
Free online consultation
Talk directly with an attorney
---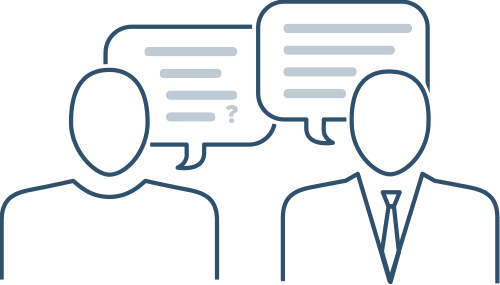 I was in an accident 3 years ago and had a very bad experience with the attorney back then I was in another accident last year and called the advocates mark and his team were amazing changed my view on accident attorneys they kept I'm touch with me every step of the way gave me authority on choices for myself I didn't have to go with what they said I could go against it and they still would have worked with me the same I had choices this time around I would always go with Mark I have even sent friends his way just cause I appreciate all the help and support the whole way threw.
- Amber Powers
My experience with the advocates was a good one. After being hit by a car on my motorcycle they helped me with a settlement with the insurance company to get the hospital bills paid. They were extremely helpful. They always answered any questions I had with in a day. Every email I sent was always responded to. If you unfortunately has to go through a injury by another person I would recommend them in helping you resolve any debt you have because if that injury. The Advocates were great to work with and help me get this unfortunate event behind me.
- Kevin Strehler
Steve and his crew at The Advocates were nothing short for amazing. They took my case after I was rear-ended resulting in neck surgery. Steve and company made sure all of the was taken care of and that I got the maximum compensation possible. I definitely recommend The Advocates
- Michael Henrie
Mr. Brad Johnson, our lawyer; was Awesome! He was very informative, kept us up to date on my case with regular calls. He returned calls back to us within 24 hours or less. Brad Johnson is very courteous, honest, kind, and a pleasure to talk to and work with. There are very few Lawyers out there that could even come close to the high morals that Brad Johnson has and has shown towards us. We need more lawyers like Brad Johnson . If we ever needed a disability lawyer again in the future; it would be Brad Johnson and The Advocates Firm that he works at. We will definitely turn ALL of our family and friends towards this lawyer and firm; in a heartbeat!!!
- Nancy Wanetick
I want to First say that I am truly thankful for the advocates Law Firm they have been a great service to me through this ordeal and Katie she is a tremendous lawyer someone that I would recommend she fights tooth and nail for her clients and the rest of the team they supported me to the fullest with that being said I would like to say for anyone who is trying to find an attorney to fight their case The Advocates is the way to go.
- Tony Smith
---
Iowa Motorcycle Accident Statistics
---
What are the most common causes of motorcycle accidents?
The same high-risk behaviors that cause car accidents also cause motorcycle accidents. However, because motorcycles are much smaller than passenger vehicles, motorcyclists are at greater risk of injury or death than people who travel by car. Common causes of motorcycle accidents include:
Speeding
Not checking blind spots
Do not give way
distracted driving
Driving under the influence of alcohol
Most motorcycle accidents are due to drivers not seeing the rider. For this reason, it is essential that drivers check their blind spots before changing lanes.
What are the most common injuries in motorcycle accidents?
Motorcyclists are injured in accidents at a much higher rate than people who travel by car. It is crucial that motorcyclists wear proper protective equipment to help protect them from serious injuries. Some common injuries after motorcycle accidents include:
Traniocerebral trauma
Spinal cord injuries
Damage to internal organs
Bone fractures
Strains, sprains and bruises
Road rash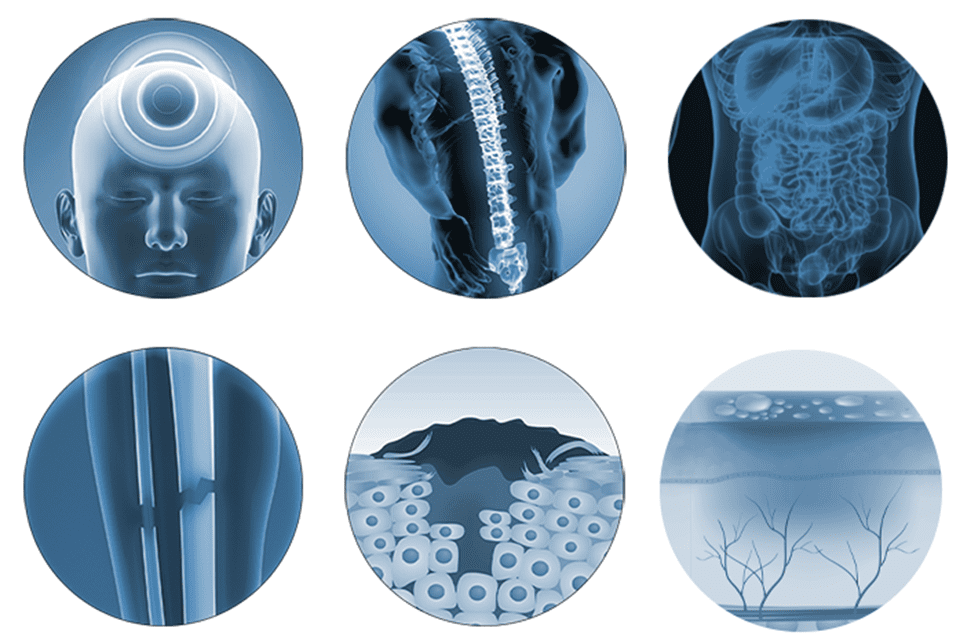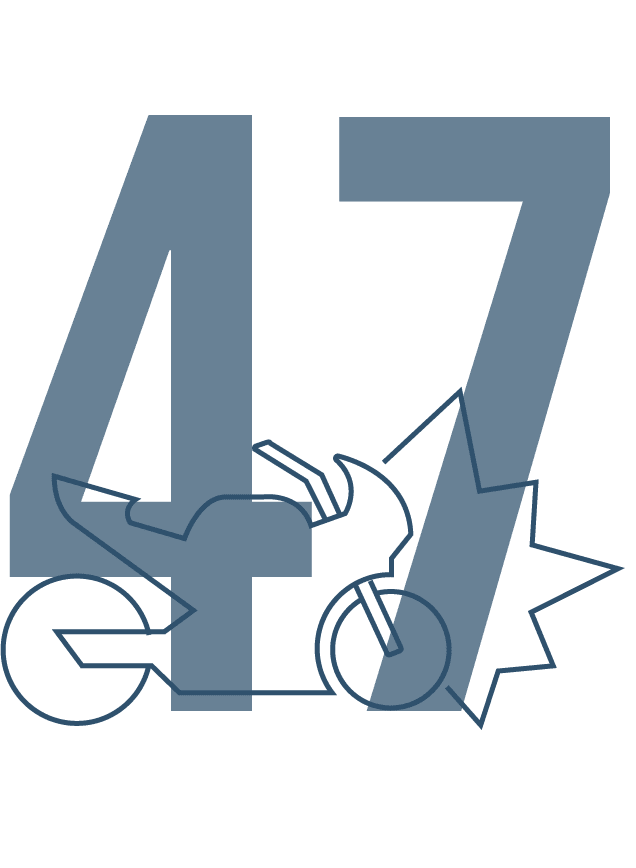 How many motorcycle accidents occur each year in Iowa?
The number of motorcycle accidents, injuries and deaths has decreased over the last two decades
Between 2016 and 2021, the average number of motorcycle accidents per year in Iowa was 950, up from 2,700 in the 1970s and 1980s
Iowa sees an average of 47 motorcycle accident deaths each year
When and where are motorcycle accidents most likely to occur?
While it is always important to be alert while riding, knowing when and where motorcycle accidents occur can help both riders and drivers avoid an accident. Some important statistics to know about motorcycle collisions are:
64% of accidents occur from June to September
More accidents occur on weekends than on weekdays.
More than 50% of accidents occur between 1:00 p.m. and 6:00 p.m.
More than 90% of accidents occur dry
Municipal roads in urban areas record the highest number of accidents per year.
In approximately 35% of accidents, the motorist had nothing to do with the cause of the accident.
Des Moines and Cedar Rapids have the highest number of accidents each year.
Almost 50% of motorcycle accidents occur when a car collides with a motorcycle; The other 50% is due to the motorcyclist losing control.
---
Leyes de Iowa sobre motocicletas
---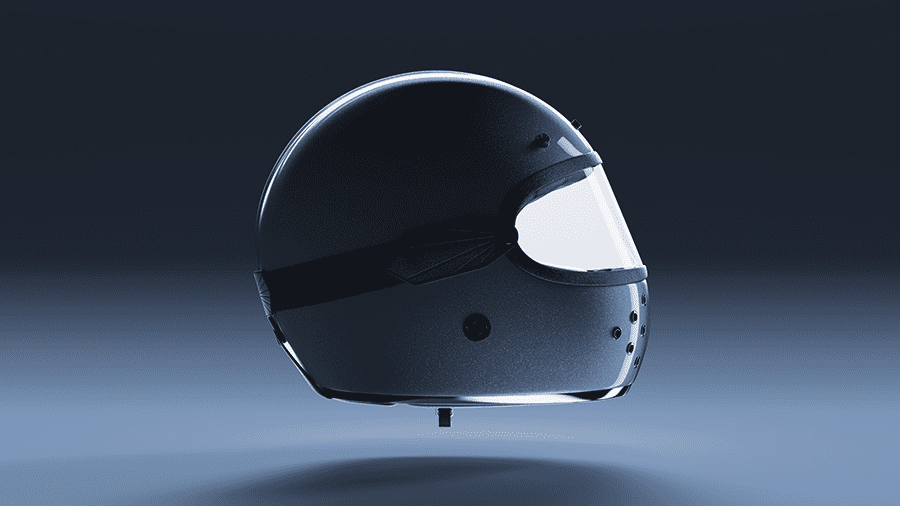 Do motorcyclists have to wear helmets?
Iowa is one of three states that does not require helmets for motorcycle riders of any age. It is also not mandatory to wear eye protection.
However, according to the Iowa Department of Transportation, about 90% of fatal motorcycle accidents occur in drivers who were not wearing a helmet at the time of the accident. Helmets save lives, so it's a good idea to wear one whenever you ride a motorcycle.
Goggles or face shields can help prevent bugs or debris from hitting your eyes, which is not only painful, but dangerous. The object could injure or damage your eye, permanently affecting your vision. It could also surprise you and cause you to swerve or brake suddenly.
What features should a motorcycle have?
All motorcycles in Iowa are required to have a headlight on at all times. This helps increase visibility, as motorcycles can be easily missed by motorists. The motorcycle must also have working turn signals, like any other vehicle.
If a rider plans to ride with a passenger, the motorcycle must have a seat and footrest for both. The passenger should sit behind the driver so as not to interfere with the driver's vision or ability to drive.
What licenses does a motorist need?
There are several types of licenses and permits that allow you to operate a motorcycle on Iowa roads. The first is a motorcycle instruction permit, which functions similarly to a driver's license. The permit allows you to ride a motorcycle accompanied by a licensed motorcyclist. To obtain a permit, you must pass a knowledge test and a vision test.
A motorcycle endorsement can be added to your existing driver's license. To receive an endorsement, you must pass a knowledge test, a skills test, and a vision test.
If you do not already have a driver's license, you can obtain a Class M license, which allows you to operate a motorcycle, but no other type of motor vehicle. This type of license requires more testing than the other two, but the skills test may be waived if you have completed a state-approved motorcycle education course.
Is changing lanes legal in Iowa?
Lane splitting, or the practice of allowing a motorcycle to share lanes with other vehicles to reduce traffic congestion, is not legal in Iowa. Motorcycles have the right to use an entire lane, and They are not allowed to circulate among other vehicles.
This practice is allowed in a growing number of states, especially at traffic lights, but remains illegal in the state of Iowa. It is dangerous to try on Iowa roads because drivers do not expect it. It is important to be as predictable as possible when riding a motorcycle, which means always respecting the laws.
---
When Should I Hire a Des Moines Motorcycle Accident Lawyer?
---
If you have suffered injuries in a motorcycle accident, the at-fault driver's insurance company will do everything possible to avoid offering you fair compensation. They may try to diminish the severity of your injuries, claiming that your injuries were pre-existing, or deny responsibility for the accident altogether. A personal injury attorney can help you negotiate with insurance companies.
The Advocates personal injury law firm has three decades of experience fighting for our clients' right to fair compensation under the law. We know the tricks insurance providers often play, and we will do everything we can to get you the settlement you deserve.
We are here to help you every step of the way. We provide more than legal services – we will assist you in accessing medical treatment and getting your motorcycle fixed, as well as understanding your medical bills. The Advocates truly care about you and your recovery, and our goal is the same as yours: a successful motorcycle accident lawsuit.
Contact us today for a free case evaluation. You deserve excellent legal representation for your personal injury case. You deserve an Advocate.
FREE CASE EVALUATION
CALL US
FILL OUT THE FORM BELOW
CHAT WITH US