Michael Driggs, Personal Injury Attorney
Michael Driggs is a trial lawyer in The Advocates Utah office. He joined the firm with a passion for utilizing his time and skills to serve those who have been seriously injured through the carelessness of others. Since joining the firm, Michael has demonstrated a relentless commitment to putting his best foot forward in every case he handles. Having assisted numerous clients navigate what they consider to be the most challenging situation of their lives, Michael recognizes the importance of his work and brings empathy and zeal to every case to protect the rights of his clients.
Education
Antonin Scalia Law School at George Mason University—J.D. (2022)
George Mason University School of Business—M.B.A. (2021)
University of Utah—B.A. English (2018)
Professional Experience
The Advocates—Attorney (2022-present)
Regan Zambri Long PC—Law Clerk (2020-2021)
Fairfax County Circuit Court—Judicial Extern (2020)
Professional Affiliations And Awards
RISK-FREE CONSULTATION
Michael's Story
After graduating from the University of Utah, Michael moved to Washington, D.C., to study law and business at George Mason University. At George Mason, Michael completed an externship for a judge in Fairfax County, Virginia, and worked as a clerk for one of D.C.'s top personal injury firms. As an extern, Michael gained familiarity with the courtroom and the judicial process. As a clerk, Michael gained invaluable experience working under top attorneys on several multi-million dollar cases.
Beyond work, Michael loves any chance he gets to be with his wife and two daughters. He enjoys getting outside, especially when getting outside means going and playing golf. Michael is a big fan of the Utah Jazz and the Utah Utes and, when he gets the chance, loves spending an evening reading a good book.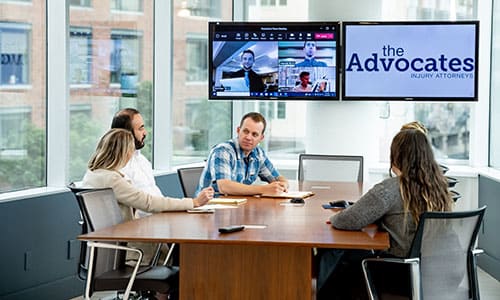 4 Reasons to Make Michael Your Personal Injury Attorney
Experienced in motor vehicle, dog bite, intentional tort, slip and fall, medical malpractice, and catastrophic injury litigation
An educated and persuasive writer
Passion for helping clients and ensuring an exceptional client experience
Enthusiasm for giving back to the community

I was in an accident 3 years ago and had a very bad experience with the attorney back then I was in another accident last year and called the advocates mark and his team were amazing changed my view on accident attorneys they kept I'm touch with me every step of the way gave me authority on choices for myself I didn't have to go with what they said I could go against it and they still would have worked with me the same I had choices this time around I would always go with Mark I have even sent friends his way just cause I appreciate all the help and support the whole way threw.
- Amber Powers
My experience with the advocates was a good one. After being hit by a car on my motorcycle they helped me with a settlement with the insurance company to get the hospital bills paid. They were extremely helpful. They always answered any questions I had with in a day. Every email I sent was always responded to. If you unfortunately has to go through a injury by another person I would recommend them in helping you resolve any debt you have because if that injury. The Advocates were great to work with and help me get this unfortunate event behind me.
- Kevin Strehler
Steve and his crew at The Advocates were nothing short for amazing. They took my case after I was rear-ended resulting in neck surgery. Steve and company made sure all of the was taken care of and that I got the maximum compensation possible. I definitely recommend The Advocates
- Michael Henrie
Mr. Brad Johnson, our lawyer; was Awesome! He was very informative, kept us up to date on my case with regular calls. He returned calls back to us within 24 hours or less. Brad Johnson is very courteous, honest, kind, and a pleasure to talk to and work with. There are very few Lawyers out there that could even come close to the high morals that Brad Johnson has and has shown towards us. We need more lawyers like Brad Johnson . If we ever needed a disability lawyer again in the future; it would be Brad Johnson and The Advocates Firm that he works at. We will definitely turn ALL of our family and friends towards this lawyer and firm; in a heartbeat!!!
- Nancy Wanetick
I want to First say that I am truly thankful for the advocates Law Firm they have been a great service to me through this ordeal and Katie she is a tremendous lawyer someone that I would recommend she fights tooth and nail for her clients and the rest of the team they supported me to the fullest with that being said I would like to say for anyone who is trying to find an attorney to fight their case The Advocates is the way to go.
- Tony Smith