Common Airbag Safety Issues You Should Know
Did you know that more than 41 vehicles in the US have been recalled due to faulty airbags? Airbags are designed to help protect you from a serious injury during a collision, but what if they don't?
Over the last 30 years, car manufacturers have worked tirelessly to make motor vehicles safer to driver. It's no doubt that when airbags work properly, they do save lives. In fact, frontal airbags have helped reduce driver fatalities by 29%.
However, sometimes airbags deploy too forcefully or fail to deploy at all. In the following article we'll discuss some of the most common airbag safety issues you should know about and what you can do if you were injured by a defective airbag.
What can go wrong with airbags?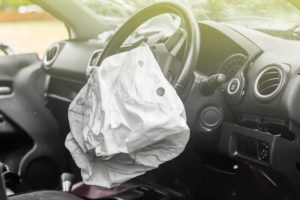 It's important to first understand that when airbags are deployed during an accident, they're released out of the dashboard at an extremely high speed. Unfortunately, if something goes wrong with this safety feature at a high velocity, this can cause significant, if not fatal, injuries.
While most airbags function properly, here are 4 of the most significant airbag defects to know:
Airbags can fail to deploy
The airbag sensor can deploy too aggressively
One airbag might deploy, but not the other
They can deploy at the wrong time
Timing is everything. If an airbag deploys just a second too late, the driver or passenger's head is often too close to the airbag, causing a serious injury to the face or head.
Some airbag brands, such as Takata, have even exploded at the time of deployment due to a mere defect. A defect that claimed the lives of 16 people and left hundreds more with severe injuries. Other brands, like Fiat-Chrysler, recalled more than 1 million vehicles due to faulty wiring, causing airbags to deploy randomly.
Mazda recalled 60,000 vehicles due to the opposite problem: failure to deploy in the event of an accident. Airbags that deploy at the wrong time, too abruptly or not at all can be deadly.
What are common airbag-related injuries?
A malfunctioning airbag can cause a range of injuries. These injuries include:
Bone fractures
Lacerations
Traumatic brain injuries
Abrasions or burns
Eye injuries
Damage to the lungs or airways
If you suffered an injury due to a faulty airbag, you should seek medical attention right away. Your safety is a top priority. If you believe your injuries were caused by an airbag malfunction, it's best to preserve your vehicle so that a team of accident experts can determine what happened.
Can I sue for an airbag-related injury?
If you were injured by a defective airbag, you have the right to pursue a legal claim for your pain and suffering. Car manufacturers are responsible for the effectiveness of their products. Airbags are an automotive product, so if the airbag was defective you can pursue a product liability case.
It's in your best interest to speak with an experienced attorney as soon as possible, so that you don't have to pursue this claim alone. Here at The Advocates, our accident lawyers know the ins and outs of product liability law and are ready to fight for your recovery. You can chat with us here on our homepage or call us at 406-780-3982. 
Don't wait. You deserve an Advocate!