The Top 4 Most Dangerous Roads in Florida
Car accidents can occur any time and any place, even down south in the Sunshine State. Despite its coastal island vibes and the wonderful world of Disney, the most dangerous roads in Florida are actually some of the worst in the entire country.
Part of the reason why there are so many personal injury billboards plastered across every highway in Florida is because of the extremely high accident rate and the increasing traffic death toll. Keep in mind though, if you find yourself stuck in the aftermath of a serious collision, you should always call 9-1-1 right away. If you have any questions about your accident you can always get free legal advice from an accident attorney on our Live Chat today.
Let's take a look at the Top 4 Most Dangerous Roads in Florida:
Interstate 75: A Raceway to Tragedy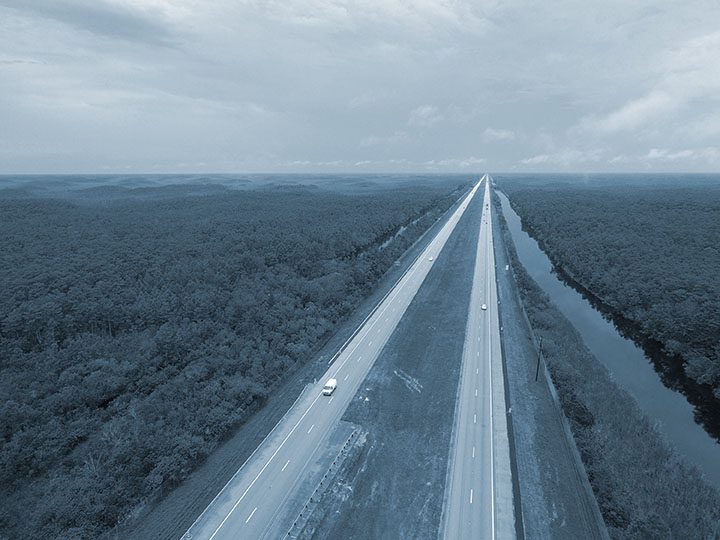 From the icy grips of northern Michigan down to the warm lakes pooling the outskirts of Miami, Interstate 75 offers plenty of Floridian natural beauty off of its many exits. But, with its long route to fun and games, Interstate 75 plays no game when it comes to its increasing number of tragic accidents.
According to the DOT, the accident rate on I-75 crossing through Alachua County is 90% higher than the statewide average for similar roads. Even worse, the number of vehicle wrecks jumped from 935 in 2011 to 1,538 in 2015 and is still increasing today.
One Tennessee family recently took I-75 from Nashville to Orlando and noticed how much faster drivers were speeding on the interstate, specifically from Lake City south. The husband, Mark Quarles, even said, "It's like a NASCAR race because people generally know there is not going to be any state trooper presence on I-75 on the Florida side." With speeding drivers on an already congested highway, travelers are finding it increasingly more difficult to avoid being in an accident.
The I-75 Task Relief Force says the only way to tackle I-75's accident problem is by recommending improvements, instead of building a new roadway, which is what Florida lawmakers have suggested. Some blame large commercial trucks for the high collision rate, others blame the 38,000 vehicles traveling on I-75 per day. I-75 offers a scenic route from the Great Lakes down to the southern tip of Florida, but with that comes a dangerous risk of being involved in a deadly collision. Drive safe and distance yourself from speeding drivers.
I-10: No Safe Middle Ground Here
Known as the southernmost cross-country point of American Interstate Highway, Interstate 10 stretches across the entire spread of Florida's Panhandle. But, this busy roadway doesn't just stop here. In fact, I-10 runs through eight different states, starting from the surfing waves of Neptune Beach all the way out to the sunny skies of Santa Monica, California. I-10 is actually the fourth longest freeway in the country and certainly plateaus most lists of dangerous highways in the U.S.
The reason I-10 is on our list of Most Dangerous Roads in Florida is solely based on the fact that there are very few barriers throughout the entire 2,460-mile stretch of roadway. Because of the lack of barriers, it's practically inevitable for drivers to cross over the center line and crash into oncoming traffic, if not traffic in surrounding lanes. In fact, the majority of the car accidents on I-10 are called crossover crashes.
Without middle medians, it's virtually impossible for cars to avoid drifting into nearby lanes of traffic. If you plan on taking a cross-country road trip from Jacksonville to the sandy beaches of Santa Monica, don't ever lose grip of the wheel, or you could be the next person to unexpectedly cross into other lanes of traffic.
Interstate 95: The Longest Shortcut to Disaster
Traveling along the entire Atlantic coast is definitely a must-do for many travelers. Through the brisk winds of coastal Maine to the swaying palm trees of Miami, driving along I-95 certainly brings all kinds of different road and weather conditions. Unfortunately, more than half of I-95 is a traffic nightmare and the very worst is seen in and around Miami, particularly through Miami-Dade and Broward.
According to the Florida Highway Patrol, after a three-year period, there were more than 10,000 vehicle accidents recorded, including tragic deaths and serious injuries, in Miami County. Local highway police and lawmakers blame "lane divers" for I-95's ridiculously high number of accidents. Lane-diving is like taking a shortcut through a highway, in specific, right through the orange express lane poles. It should come as no surprise that Interstate 95 is on our list of most dangerous roads in Florida for the reckless behavior of local and out-of-state drivers.
South Florida lawmakers and highway patrol agree that the expressway portion of I-95 near Miami is so dangerous that even with the costly efforts recently put into place to reduce lane-diving, it just isn't enough to keep the 300,000 daily travelers safe. If you decide to take this coastal road trip, be sure to drive with extra caution near Miami and if you can, take a safer, less congested back road instead.
I-4: The Freeway with 3 Dreadful Names
Locally known as the "Haunted Highway" and nationally known as the busiest interstate in the United States, this Floridian freeway has recently taken on a third new name as the most dangerous road in the entire country, according to Teletrac Navman. Here's why:
In the short 132-mile stretch from Daytona Beach to Orlando, and from Disney to Tampa, there are nearly 2 accident deaths per mile on Interstate 4, according to the NHTSA.
In fact, you'll be surprised to know that the most dangerous section of roadway in the entire country runs right through the happiest place on Earth; from Lakeland to Disney World. Since 2016, nearly 800 crashes have occurred in this area. Traffic reports have stated the worst time to drive from Lakeland to Disney is around 8 a.m. on Saturday.
Part of the problem is that accidents are heavily blamed on Florida's terribly relaxed texting and driving laws. Florida is actually the worst state in the country for distracted driving. So, if you plan to text and drive on Interstate 4, you might want to reconsider. This highway is a deadly one and you don't want to be next.
Dangerous Roads in Florida – When Should I Speak With an Attorney?
Driving on some of the country's most dangerous roads in Florida can end in tragedy. The above freeways have had more vehicle accidents than any other roadway in the United States due to their hazardous traffic conditions.
If you or a loved one have been injured in an accident through no fault of your own, you should speak with a personal injury attorney right away. A car accident lawyer will help you determine what will be best for you and your injury case. Don't wait. Contact us today! Most accident claims are time sensitive.  You deserve an Advocate!