Best Motorcycle Roads in Arizona
Many areas of Arizona experience warm, sunny weather year-round. This makes the state an ideal destination for motorcycle riding. Even better– there is no shortage of breathtaking scenery, no matter which way you ride.
We've compiled a list of some of the best motorcycle rides in Arizona for riders of all skill levels.
Route 66
– Lupton to Kingman
Known as "the mother road," Route 66 stretches from Chicago, Illinois into Santa Monica, California. In Arizona, it snakes from Lupton to Kingman, passing through Flagstaff along the way.
One of the perks of this trip is that many travelers opt instead for nearby Interstate 40, leaving Route 66 to those driving for the journey rather than the destination. Along the way, you'll be treated to some of the greatest views and quaintest towns the American Southwest has to offer. 
On the eastern side near Lupton, you'll have the opportunity to see the Painted Desert and Petrified Forest National Park. Near Flagstaff, you can tour the Sunset Crater Volcano National Monument. A few miles away from the Arizona/Nevada border, the town of Seligman has unique shops and restaurants worth stopping at.
Route 66 is an easier road to ride on and gives bikers an opportunity to slow down and take in the views, something not offered to interstate travelers.
Route 67- Jacob Lake to the
Grand Canyon
North Rim
Northern Arizona and the Kaibab National Forest stretch up to 8,000 feet in elevation, giving them a slightly different feel than the central and southern parts of the state. Rather than towering saguaros and miles of red sand, this part of Arizona features evergreens, rolling fields, and wildlife such as mule deer.
The route begins in the small town of Jacob Lake and travels through the Kaibab National Forest until it ends at the North Rim of the Grand Canyon. This side of the canyon is much less crowded than the South Rim, but still offers spectacular views.
Most of the hills and curves on this route are gentle, making it an easy and enjoyable ride. Because it travels through a national forest, there aren't gas stations along the way, so be sure to fill up and grab a bite to eat in Jacob Lake. The ride is about 42 miles one way.
Keep in mind that when traveling at high elevations, sudden adverse weather is possible. The North Rim is closed during the winter, so plan to enjoy this route between May and October.
Lake Mary Road-
Flagstaff
to
Payson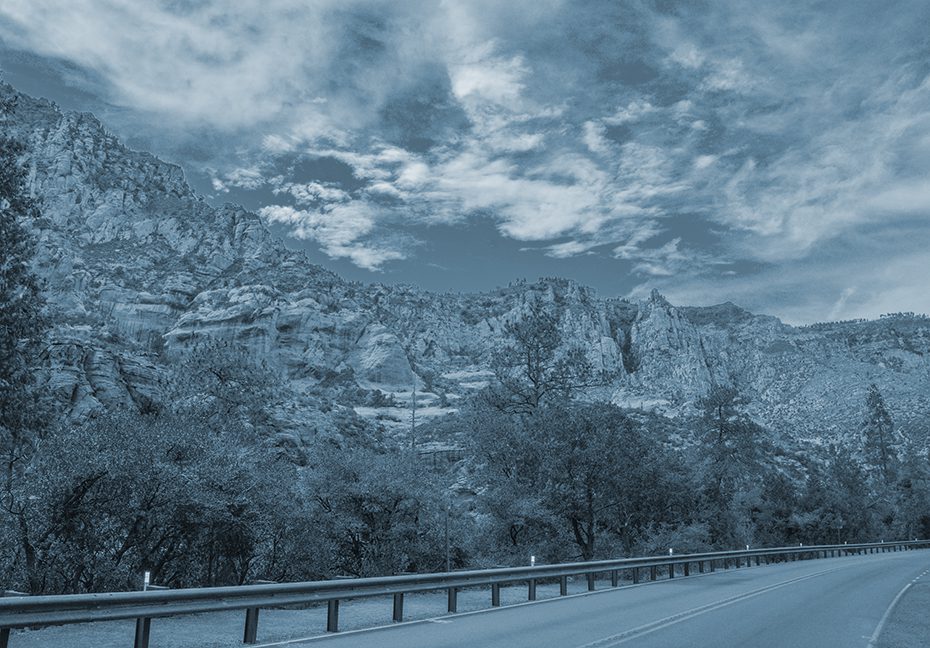 Lake Mary Road takes you through Coconino National Forest, past tall ponderosa pines, and along Lake Mary. The road is a gentle decline with a few sweeping curves. It stays cool on this section of road, thanks to the elevation and tree cover. Once you leave the pine forest, expect more direct sunlight and sharper curves on the two lane road.
Starting in Flagstaff, you'll ride about 60 miles down Lake Mary Road, until you reach Clints Well, Arizona. From there, join Hwy 87 heading south. 87 will take you through the towns of Strawberry and Pine, finally ending in Payson. One-way, this entire ride covers about 95 miles.
Some bikers choose to continue on from Payson into Phoenix. Because these areas of the state are often hot, this ride is best enjoyed in the spring or fall.
Interstate 10-
Phoenix
to Old
Tucson
The 120-mile stretch of I-10 from Phoenix to Tucson showcases the desert landscapes that many tourists expect when they visit Arizona. This scenic drive is an easy ride that passes through Picacho Peak State Park. Expect to see plenty of cacti and rock formations.
Once you get to Tucson, exit I-10 and head about 10 miles out to Old Tucson to see the "Hollywood of the West." Old Tucson has been featured in many old western movies and is now a popular tourist attraction and theme park.
You can ride this motorcycle route as a day trip, but it's not a bad idea to stay in Tucson for a while. While there, you'll have easy access to Saguaro National Park, Coronado National Forest, and Mt. Lemmon (the highest point in the Santa Catalina Mountains). 
US 60-
Phoenix
to
Show Low
US 60 will take you 175 miles from the bustling city of Phoenix high into the eastern mountains of Show Low. Along the way, you'll pass through the towns of Superior and Globe, climb hairpin switchbacks into the Salt River Canyon Wilderness Area, and have the opportunity to enjoy stunning vistas at a number of pull-offs.
From Phoenix, get on US 60 toward Mesa. The road is well-maintained, though there can be heavy traffic at times. Once you get through Apache Junction, traffic typically lightens up and you can focus on the extraordinary views. The air often gets very cool as you climb into the mountains.
The road between Globe and Show Low features gradual climbs and twisties. There aren't many towns or gas stations along the way, so fill up when you get the chance.
Apache Trail
–
Tortilla Flat
to Theodore
Roosevelt Lake
In the 19th century, Tortilla Flat was a campground and stagecoach stop for prospectors who searched for gold in the Superstition Mountains. Arizona 88, also known as Apache Trail, runs through the town, linking the Phoenix metro area with Theodore Roosevelt Lake.
Starting in Apache Junction, hop on AZ 88 heading east. Along the route, you'll pass by Goldfield Ghost Town and Canyon Lake. Once you reach Tortilla Flat, you'll have the option to continue on a packed gravel road out to Roosevelt. This section of road travels through high canyon walls along the Salt River and ends at Theodore Roosevelt Lake.
From Apache Junction to Roosevelt is about 45 miles, though you can stop and turn around in Tortilla Flat if you don't want to ride the entire route. In Tortilla Flat there is a museum and a saloon. In Roosevelt, you can enjoy views of the lake, as well as Tonto National Monument, where there are ancient cave dwellings.
State Route
89-
Wickenburg
to
Jerome
Wickenburg and Jerome are both small towns north of Phoenix, and the road connecting them is a beautiful, twisty, mountainous route full of scenic vistas and historic sites. Throughout the nearly 100-mile ride, you'll be treated to views of red rocks and alpine landscapes.
Starting in Wickenburg, head north on SR-89. You'll travel through Prescott National Forest and into the town of Prescott itself. The town is home to saloons and museums from the Gold Rush. 
When leaving Prescott, head east on 89A toward Jerome. Use caution during the second leg of the trip, as the road into Jerome has many sharp curves and blind spots.
Jerome is an old copper mining town with plenty of history, vintage shops, and ghost tours (some buildings are said to be haunted).
The trip from Wickenburg to Jerome is about 95 miles, though you can continue on 89A to Cottonwood and Sedona, which is another spectacular ride. You can also take nearby I-17 back to Phoenix for a quicker return.