Best Motorcycle Rides in North Dakota
The Dakotas have some of the highest rates of motorcycle ownership, thanks in no small part to the Sturgis Motorcycle Rally held each year in South Dakota. Though South Dakota often gets all the glory, North Dakota ranks 6th in the nation for registered motorcycles per 100,000 people.
With all those bikes, it's no surprise that North Dakota is home to some of the best motorcycle roads in America. Below, in no particular order, are our favorite North Dakota motorcycle routes.
Theodore Roosevelt National Park
Loop
Theodore Roosevelt was an avid hunter and rancher, and the Badlands were his stomping grounds. There are a couple ways you can take this motorcycle trip: you can make a short loop through the south unit of the national park, or you can turn it into a 250-mile loop that stretches from western North Dakota into eastern Montana.
For the short route (about 30 miles), you'll start in Medora and head north on East River Road. This road snakes and curves alongside the Little Missouri River. After about seven miles, turn right on Scenic Loop Road. You'll follow this sweeping road all the way through the park. There are a few tight corners throughout the loop. There are also several overlooks where you can stop and take in the sights.
If you're hoping to enjoy more of the North Dakota badlands along with some fascinating history, consider the longer day ride. This ride starts in Medora and heads east on I-94 for 17 miles. Once you hit Belfield, turn north onto Highway 85. You'll take the 85 for about 70 miles until Watford.
From Watford, turn west and take Highway 200 toward Montana. This road meets up with Montana Scenic Highway 16. Head south on the 16 until Glendive, where you'll hop back on I-94 headed east for Medora.
On this scenic drive, you'll see rolling hills, historic tunnels and bridges, the Yellowstone River, Sentinel Butte, and wildlife like prairie dogs, bison, and even coyotes. There are plenty of opportunities to stop for fuel, food, and unique views you won't find elsewhere.
Sheyenne River
Valley
Scenic Byway
Technically, this scenic byway begins near Lake Ashtabuta, but many people start their ride about 20 miles south, in Valley City. This open road follows the Sheyenne River, which makes the area greener and more lush than many other regions of North Dakota.
To start this ride, get on Route 21 headed south from Valley City. You'll stay on this road for a little over 30 miles, as you pass through the small towns of Daily and Kathryn. Once you hit Fort Ransom, the byway continues but turns to gravel, so many bikers choose to turn around here.
This scenic ride includes opportunities to stop for food at local restaurants or shop for antiques. Fort Ransom State Park has lodging and camping options along with some beautiful hiking trails.
The Enchanted Highway
The Enchanted Highway is a fun, unique ride that you'll remember forever. Starting at Exit 72 of Interstate 94, head south. You'll see a large sculpture of geese indicating that you're in the right place. As you head down the Enchanted Highway, you'll pass more sculptures, positioned on the side of the road every few miles.
At each sculpture, you'll have the opportunity to pull off and take pictures. The entire ride is about 33 miles one-way and takes you from Gladstone, North Dakota, to the tiny town of Regent. In Regent, there is a gift shop and the Enchanted Castle motel and restaurant.
Route 1804 to
Williston
This route was named after the year Lewis and Clark began traveling through the area. It is a 70-mile ride alongside the Missouri River. There are some fun rolling hills and high speed curves as you cruise through the river valley. This route is lightly trafficked and well-maintained.
Starting in New Town, hop on Route 1804 and stay on it all the way to Williston. Motorcyclists can enjoy the views of the river and a few lakes throughout the ride.
Killdeer
Mountain Four Bears
Scenic Byway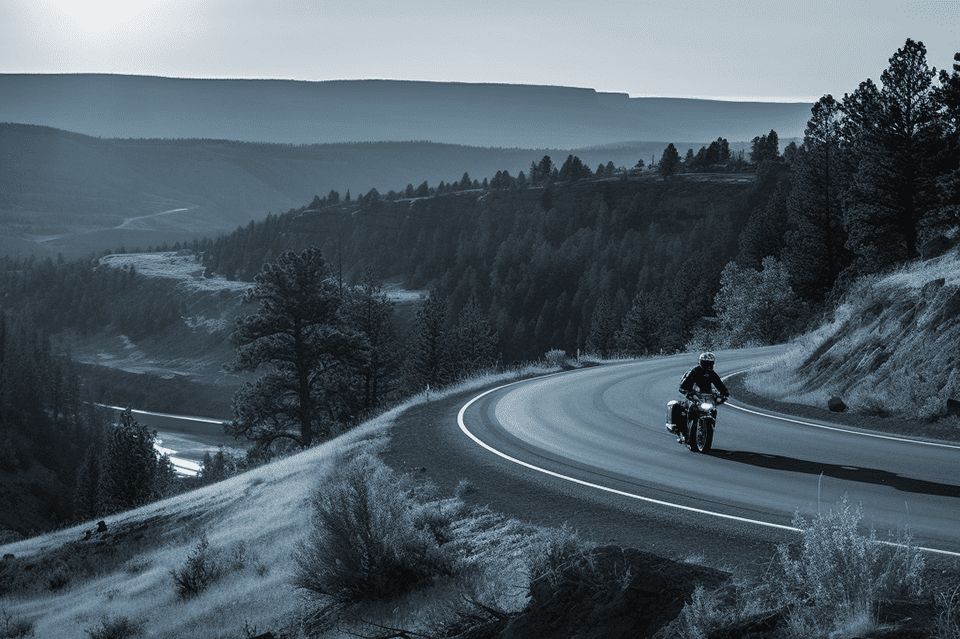 North Dakota isn't exactly known for its mountain roads, but this route may be the next best thing. Highway 22, also known as the Killdeer Mountain Four Bears Scenic Byway, has steep climbs and descents onto high plateaus with stunning views of the Badlands. 
Starting in Manning, head north on Highway 22 toward Killdeer. As you come into the Badlands, the road twists and turns into the valley of the Missouri River. You will climb steep plateaus and see buttes in the distance.
Along the way, you can stop at the Crow Flies High Butte Overlook, Little Missouri State Park, or Lake Ilo National Wildlife Refuge.
Once you hit Highway 23, head east for New Town. Total one-way mileage is about 72 miles.
Old Highway 10
This 96-mile road trip takes you along the North Dakota–Canada border for awhile. Starting in Rolla, head north on Highway 30. You'll pass a 20th-century castle on your way to St. John (it's on private property, but is visible from the roadway). From St. John, go west on Highway 43—in this area, there are hundreds of lakes and ponds in all directions.
Take a quick detour by turning right onto US-281 toward Canada. At the border, you can stop at the International Peace Gardens. Once you've had your fill there, hop back on your bike and head south on the 281 until its junction with Highway 43. Continue west on 43.
You'll continue passing beautiful areas like wildlife refuges and state forests. When you come to Lake Road, turn left (or turn right and take another detour around Lake Metigoshe). Head south on Lake Road until you come to Bottineau, where you'll take Highway 5/281 east back to Rolla. On this stretch, you'll be able to see Turtle Mountain in the distance.