A Zantac Cancer Attorney Can Help Your Case
Zantac, a popular over-the-counter heartburn medication, uses ranitidine as its active ingredient. In 2019, the U.S. Food and Drug Administration (FDA) found that some kinds of Zantac and other ranitidine drugs contain a carcinogen known as n-nitrosodimethylamine. Just a few months later, all ranitidine products were removed from pharmacy shelves. 
If you were diagnosed with cancer after taking Zantac for heartburn, stomach ulcers, or acid reflux, you may be entitled to compensation. A Zantac cancer lawyer with The Advocates can evaluate your situation and help determine if you have a case. Contact us today for a free consultation.
Illness or Injury

If you believe Zantac or generic ranitidine caused an illness or injury, you may have a case
Hire Attorney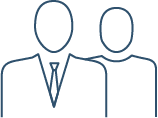 An attorney with experience in Zantac cancer claims can help
Treatment

Seek treatment for your Zantac-related illness or injury
Documents

Your attorney will keep track of your medical records as you are treated
Building a Case

Your attorney can help compile evidence of the damages you have incurred from your Zantac-related illness
Lawsuit
Your Advocate will file a lawsuit with the pharmaceutical company responsible for your illness
Frequently Asked Questions
Not every case requires an attorney. However, if you've suffered illness, injuries, or significant property damage, it is a good idea to contact a lawyer. An experienced personal injury attorney can help you navigate the claims process, which can be lengthy and complex. Your attorney will build your case, keep track of your medical records, negotiate with insurance companies, and represent you in court if necessary. Studies have shown that accident victims who hire a personal injury lawyer can receive settlements up to 3.5 times larger than if they settled on their own.
The best way to know if you have a case is to speak with an attorney. The Advocates offer free consultations—you can speak with a qualified legal team to understand what your case is worth without paying a dime. Once you have decided to hire an Advocate, we will investigate your accident to firmly establish liability.
Your initial consultation with us is always 100% free. There are never any upfront costs or hidden fees when you hire The Advocates.
Our attorneys work on a contingency basis, which means that our attorney fees are calculated as a percentage of your settlement. You will not pay us unless we win your case, and you receive a settlement.
Every personal injury case is different. There is no one-size-fits-all solution to accident claims. The length of the claims process will depend on the severity of your injuries, the willingness of the other party to settle, the court's caseload, and more.
In general, personal injury cases can take anywhere from several months to a few years. It's important to contact an attorney as soon as possible to get your case started. Each state has a statute of limitations for personal injury cases, after which you will lose your right of action.
When you hire The Advocates, we will begin investigating your accident immediately while you finish medical treatment. Once all evidence and medical records have been compiled, your attorney will send a demand letter to the other party's insurance company. At this point, negotiations will begin.
In many cases, a settlement can be reached during negotiations. If the other party refuses to make a fair offer, you may choose to file a suit. In the litigation phase, your attorney will represent you in court in front of a judge, jury, and/or arbitrator.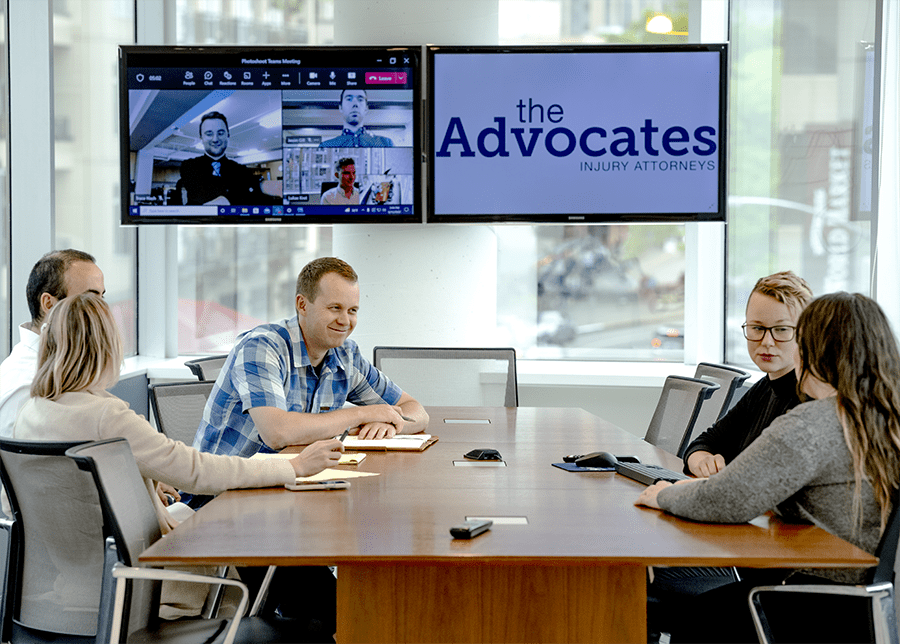 A Team of Legal Professionals Assigned to Your Case
For more than 30 years, The Advocates have helped thousands of personal injury victims receive the compensation and care they deserve after their accidents, and we are prepared to do the same for you.  
 We can help you: 
Understand the claims process

 

Access necessary medical care

 

Gather personal documentation

 

Build your case

 

File your lawsuit

 
---
Talking to a Professional
No need to schedule an appointment
No need to wait for an email response
Free online consultation
Talk directly with an attorney
---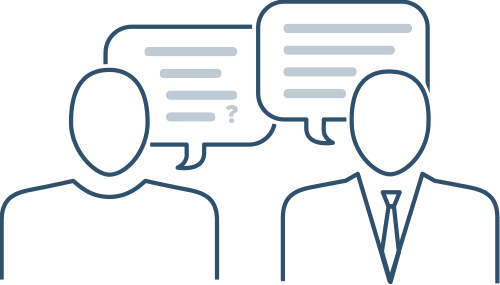 I was in an accident 3 years ago and had a very bad experience with the attorney back then I was in another accident last year and called the advocates mark and his team were amazing changed my view on accident attorneys they kept I'm touch with me every step of the way gave me authority on choices for myself I didn't have to go with what they said I could go against it and they still would have worked with me the same I had choices this time around I would always go with Mark I have even sent friends his way just cause I appreciate all the help and support the whole way threw.
- Amber Powers
My experience with the advocates was a good one. After being hit by a car on my motorcycle they helped me with a settlement with the insurance company to get the hospital bills paid. They were extremely helpful. They always answered any questions I had with in a day. Every email I sent was always responded to. If you unfortunately has to go through a injury by another person I would recommend them in helping you resolve any debt you have because if that injury. The Advocates were great to work with and help me get this unfortunate event behind me.
- Kevin Strehler
Steve and his crew at The Advocates were nothing short for amazing. They took my case after I was rear-ended resulting in neck surgery. Steve and company made sure all of the was taken care of and that I got the maximum compensation possible. I definitely recommend The Advocates
- Michael Henrie
Mr. Brad Johnson, our lawyer; was Awesome! He was very informative, kept us up to date on my case with regular calls. He returned calls back to us within 24 hours or less. Brad Johnson is very courteous, honest, kind, and a pleasure to talk to and work with. There are very few Lawyers out there that could even come close to the high morals that Brad Johnson has and has shown towards us. We need more lawyers like Brad Johnson . If we ever needed a disability lawyer again in the future; it would be Brad Johnson and The Advocates Firm that he works at. We will definitely turn ALL of our family and friends towards this lawyer and firm; in a heartbeat!!!
- Nancy Wanetick
I want to First say that I am truly thankful for the advocates Law Firm they have been a great service to me through this ordeal and Katie she is a tremendous lawyer someone that I would recommend she fights tooth and nail for her clients and the rest of the team they supported me to the fullest with that being said I would like to say for anyone who is trying to find an attorney to fight their case The Advocates is the way to go.
- Tony Smith
---
Zantac Cancer FAQs
---
Why did the
FDA
issue a
Zantac recall
?
Valisure, an independent laboratory and quality assurance company, found that some batches of Zantac had been contaminated with N-nitrosodimethylamine (NDMA). NDMA is labeled a "probable human carcinogen" by the Environmental Protection Agency (EPA). Exposure to high levels of NDMA has been linked to increased cancer risk. 
 In 2019, the Food and Drug Administration released a statement warning Zantac users about the presence of NDMA in the medication. Initially, only low levels of the carcinogen were found in Zantac. However, the FDA soon found that NDMA levels increased over time, especially when exposed to warm temperatures. 
 In April 2020, the FDA issued a recall of all ranitidine drugs. Because ranitidine is an unstable molecule, the potential for NDMA contamination is present in all ranitidine medications. 
What
types of cancer
have been linked to
ranitidine medications
?
NDMA exposure has been associated with higher risks for the following types of cancers: 
Esophageal

cancer

 

Liver cancer

 

Bladder cancer

 

Stomach/

gastric

cancer

 

Pancreatic cancer

 

Kidney cancer

 
If you developed any type of cancer after taking prescription or over-the-counter Zantac, contact an attorney to determine if you have a case. 
What other injuries and
side effects
are associated with
ranitidine
?
Like many medications, Zantac use can lead to a number of side effects. The most common side effects of ranitidine use are: 
Headaches

 

Diarrhea

 

Vomiting

 

Nausea

 
The more severe side effects of Zantac can be seriously debilitating or even life-threatening. These include: 
Liver problems

 

Pneumonia

 

Shortness of breath

 

Dark urine

 

Fever

 

Jaundice

 

Skin rashes

 

Abdominal cramps

 
What should I do if I've received a
cancer diagnosis
after taking Zantac or another
ranitidine product
?
The Advocates' personal injury law firm is ready to take on your Zantac case. Our injury attorneys have been taking on dangerous drug lawsuits for 30 years and we are ready to help you get the compensation you deserve for your illness and injuries. 
If you or a loved one has experienced illness or injury related to NDMA exposure, an Advocate will: 
Collect evidence to build your case

 

Negotiate with insurance companies on your behalf

 

Help you obtain a fair settlement from the

drug manufacturer

 
Contact the lawsuit attorneys with The Advocates today for a free case evaluation. 
---
Product Liability Lawsuit FAQs
---
What is the burden of proof in a Zantac cancer case?
If you believe you were impacted by NDMA exposure due to Zantac use, you may be entitled to a settlement. However, before you can collect damages, you must prove the following: 
Defect: You must prove the medication you used was defective. Zantac has been linked to NDMA, a

probable human carcinogen

.

Zantac manufacturers

failed to warn users about increased

cancer risk

.

 

Causation: You will need to prove that your illness or injury is linked to

ranitidine

use. Your attorney will compile evidence to build your case.

 

Damages: You must prove that you have suffered damages, like

medical bills

or

wrongful death

, as a result of using

ranitidine

.

 
A personal injury attorney can help you prove that you suffered after using Zantac and get you the settlement you deserve. 
What damages can I seek for my
Zantac cancer lawsuit
? 
The damages you will be able to seek for your Zantac settlement will depend on the circumstances surrounding your illness or injury. Your attorney will be able to help you determine the damages that can be included in your payout. 
 Some common damages sought by plaintiffs in defective drug cases include: 
Medical expenses (past and future)

 

Lost wages and loss of future earnings

 

Pain and suffering

 

Loss of quality of life

 

Disability and permanent injury

 

Wrongful death

 
How much will it cost to file a lawsuit?
The Advocates work on a contingency basis. This means that you pay nothing out of pocket to retain an attorney for your case. Our fees are calculated as a percentage of your settlement. We only get paid after a verdict has been reached– if we don't win your case, you don't pay a dime. 
Who is responsible for my illness or injuries?
Zantac lawsuits have been filed against a number of drugmakers, including: 
Sanofi

 

Pfizer

 

Boehringer Ingelheim

 

GlaxoSmithKline

 
 Whether you took the brand name Zantac or a generic version of the drug, you may be entitled to compensation from the drug manufacturer, depending on the circumstances surrounding your illness or injury. 
---
Why Should I Hire a Zantac Cancer Attorney?
---
If you plan to file a product liability claim for your Zantac-related illness or injury, it is best to do so sooner rather than later. Depending on your state, your case is subject to a time limit known as the statute of limitations. When the time limit is up, you will lose your right to file a claim. In many states, the statute of limitations for this kind of case is one to two years. 
 An injury lawyer with The Advocates can help you compile your medical records, build your case, and negotiate a settlement. We will take care of managing deadlines and paperwork, so you can focus on feeling better. 
In addition to legal advice, an Advocate will be there to provide emotional support and a listening ear during a difficult, often upsetting time in your life. With an Advocate on your side, you never have to feel alone. 
 Your Advocate will be here every step of the way for your Zantac cancer claim – our number one priority is your peace of mind. Contact our law office today for a free case evaluation. You deserve to have a competent, caring attorney on your side. You deserve an Advocate. 
FREE CASE EVALUATION
CALL US
FILL OUT THE FORM BELOW
CHAT WITH US