Most Common Personal Injury Claims
Personal injury cases can range from minor accidents with few damages, like a fender bender, to multi-million-dollar cases with hundreds of parties, such as product liability claims. Regardless of how large or small a claim is, it is important that accident victims receive the compensation they are owed for their losses, including medical expenses, property damage, and more. Many personal injury lawyers understand this and make it a priority to represent multiple case types. Below are the most common types of personal injury claims in the United States.
Car Accidents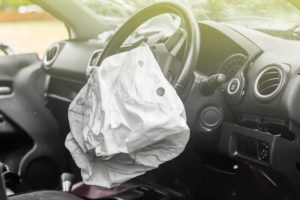 Millions of people are injured in motor vehicle accidents every year in the United States. The causes of these accidents can vary greatly, but often they are the result of negligence or recklessness behind the wheel. Auto-related crashes include motorcycle and truck accidents, as well as those involving bicyclists and pedestrians. Some of the ways a motorist might cause a crash include:
Distracted driving
Speeding
Failure to yield
Drunk driving
People who are injured in auto accidents due to someone else's carelessness often choose to file a personal injury claim to be compensated for their damages. Because car accidents are so prevalent in the US, they are the most common type of personal injury cases.
Slip and Fall Accidents
Slip and fall accidents can occur anywhere at any time. These kinds of incidents are especially dangerous for elderly people. In fact, thousands of Americans over 65 are treated for injuries related to slipping and falling each year. Common injuries stemming from slip and fall accidents include:
Broken bones
Concussions and traumatic brain injuries
Lacerations and bruising
Sprains or strains
Back injuries
Uneven footing, wet floors, and improper signage can all create a hazardous environment. People who have been injured in a slip and fall accident, whether on public or private property, may be entitled to compensation for their losses.
Medical Malpractice
Negligence by medical professionals can cause serious injuries to patients, and unfortunately, it is far too prevalent in the United States. It is estimated that more than 250,000 people die each year from medical errors. Medical malpractice injuries can be devastating physically, emotionally, and financially.
Examples of medical malpractice include:
Misdiagnoses
Birth injuries
Medication mistakes
Surgical errors
Anesthesia errors
Improper treatment
Premature discharge
If a healthcare professional takes improper or negligent actions that result in injuries to their patient, the patient may file a medical malpractice claim. On average, there are more than 12,000 paid medical malpractice claims in the US each year.
Workplace Accidents
Even with modern labor laws in place, unsafe working conditions exist at a variety of companies all across the country. In fact, there are over one million nonfatal work-related injuries and illnesses in the United States each year. Businesses may provide insufficient training to employees, neglect to fix broken equipment, or fail to provide proper safety equipment for their workers in the interest of saving money. All of these actions can directly result in employee injuries.
The occupations with the highest rates of workplace injuries include truck drivers, nursing assistants, construction workers, janitors, and maintenance workers. Employees who have experienced a workplace injury due to dangerous conditions at their job often file a worker's compensation claim. The laws regarding these claims vary from state to state, so it is a good idea to hire a worker's compensation lawyer to navigate the process of filing a claim.
Wrongful Death
Wrongful death claims are brought about when a person is killed due to someone else's negligence or recklessness. Car accidents, medical malpractice, construction site accidents, and defective products are all common reasons for wrongful death suits.
Wrongful death claims are unique compared to other personal injury claims, in that the damages are often different. Wrongful death settlements help the family of a victim cover the costs of funeral expenses, lost wages of the loved one, and non-economic damages, such as lost companionship. All states allow immediate family members, such as spouses, children, and parents of unmarried children to make wrongful death claims. Some states also allow life partners or distant family members to file these suits.
Assault and Battery
Most personal injury cases arise from accidents and cases of negligence. However, assault is also a common reason for people to file claims. Assault is defined as an intentional act that causes the victim to expect they will be hurt in some way. In most states, the reasonable fear of imminent harm is enough for an act to be considered assault. Battery, on the other hand, requires harmful contact to be made with the victim.
Not all assault and battery incidents result in serious injuries, but some can be life-threatening, necessitating medical attention or even hospitalization. When someone is injured by the intentional harmful acts of another, they may have grounds to file a claim. Some damages that can be recovered in an assault claim include medical bills, lost income, and pain and suffering.
Product Liability
Product liability claims are not quite as common as some of the others on this list, but they can be just as dangerous. They can also affect far more people than other types of personal injury cases and require much larger payouts from the at-fault parties. If a product manufacturer releases defective or dangerous products into the market, consumers who were injured by the product may be able to file a claim.
For example, one of the most famous product liability claims is the "hot coffee" incident involving McDonald's. In this case, a consumer purchased a cup of coffee from the McDonald's drive-thru. The coffee accidentally spilled on her legs, giving her third-degree burns that required extensive medical treatment. The consumer brought a claim against McDonald's for not warning her about how hot the coffee was.
Some types of product liability cases, such as those against pharmaceutical companies or car manufacturers, can have thousands of plaintiffs and result in millions of dollars paid in settlements.
Premises Liability
Premises liability claims happen on other people's property, whether public or private. If dangerous conditions are present on the property and the property owner does not warn others about the danger, someone could be injured. The injured person could then file a premises liability claim against the property owner.
Examples of this could include injuries from dog bites, toxic chemicals in the area, or exposed electrical wiring. Potential dangers in an area should be properly marked or announced, and then fixed as quickly as possible to avoid injuries.
How a Personal Injury Attorney Can Help
Injuries of any kind, whether they are from a car accident, improper medical treatment, or assault and battery, can be incredibly stressful. When paired with vehicle repairs or property damage, things can quickly become overwhelming.
An experienced attorney can help by providing legal advice, helping you build your case, and negotiating with insurance companies. The Advocates personal injury law firm is a team of competent, compassionate attorneys who are ready to help you recover as fully as possible.
An Advocate can help you:
Access medical treatment
Find body shops for vehicle repair
Get into a rental car if needed
Understand your medical bills
Communicate with your employer regarding your injuries
Gather evidence for your case
Negotiate a settlement
File a personal injury lawsuit if necessary
With a team of skilled representatives behind you, the recovery process can be much easier than if you try to go it alone. Call or chat with a live attorney online for a free consultation. The Advocates are ready to help you get back on your feet.